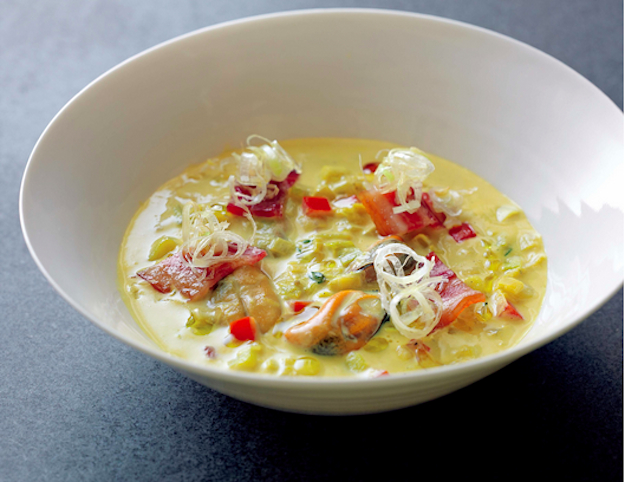 As we mentioned earlier, we're just a month out from Thanksgiving. Whoa. Every weekday afternoon between now and Thanksgiving Day, Thursday, November 22, we'll feature a recipe that can add another dimension to your holiday table, or make you The Man if you're just bringing a dish to a gathering.
A Middle Eastern take on a New England classic, Golden Mussel Chowder is a great first course for any special occasion dinner. Using ground turmeric in the spice blend as well as roasting saffron threads briefly and crushing them before adding them to the soup contribute to the dish's golden color and exotic flavor palette. The caramelized bacon adds a sweet, crisp and smoky note without taking center stage.
Ingredients
2

pounds

mussels

2

tablespoons

olive oil

1

onion, sliced

2

stalks

celery, sliced

2

cloves

garlic, chopped

1

teaspoon

golden spice mix (see below)

1

cup

white wine

2

medium

potatoes, peeled and diced

2

small

leeks

1

cup

heavy cream

rind of one

preserved lemon, rinsed and finely diced (or a tablespoon of fresh lemon zest)

10

saffron threads, roasted and crushed

1

tablespoon

thyme leaves

2

medium

tomatoes, seeded and finely diced

freshly ground black pepper

4

slices

bacon

light brown sugar

thin rounds of

crispy fried leek, to garnish
For the golden spice mix
1

tablespoon

ground coriander

1

tablespoon

ground cumin

1/2

tablespoon

ground turmeric

1/2

tablespoon

ground ginger

1/4

tablespoon

chili powder
Directions
Scrub the mussels clean and pull off the beards. Discard any mussels that refuse to close after a sharp tap.
In a heavy-based saucepan, sauté the onion, celery, garlic and golden spice mix in the olive oil for about a minute, then add the wine and the mussels.
Cover, turn the heat up and steam for 3 minutes. Turn the mussels well, replace the lid and steam for a further two minutes or until the mussels have opened.
Remove the pan from the heat and allow to steam for a further minute before taking off the lid and straining the liquor through a fine sieve to catch any dirt. Reserve the liquor.
Throw any unopened mussels back into the pot and steam for another minute or two. Discard any that stubbornly refuse to open. Allow the mussels to cool, and then remove them from their shells and cut in half.
Steam the potatoes and whole leeks for 10-15 minutes, or until tender. Remove from the heat and allow to cool a few minutes. Split the leegs in half lengthwise, then cut them into 1/2-inch slices.
Return the mussel liquor to the pot, add the cream and bring to a boil Add the potatoes, leeks and preserved lemon (or zest) then the saffron and thyme. Heat thoroughly.
Add the diced tomatoes and mussels and warm through briefly. Season with pepper.
Sprinkle the bacon liberally with brown sugar and fry until golden brown. Shred and sprinkle on the soup and garnish with the crisp fried leeks.