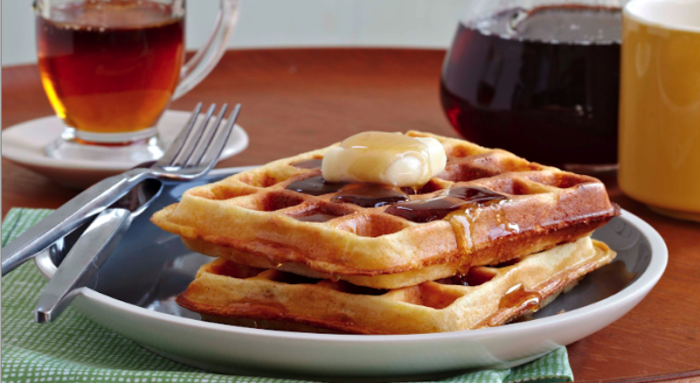 A high-quality, fine-textured, stone-ground cornmeal (sometimes called whole-grain cornmeal) delivers the fullest, sweetest corn flavor, replete with nutty, mineral-y notes. It makes all the difference in the world in these waffles. And with a subtle crystalline crunch from the cornmeal and light (but not featherweight) crumb from the beaten egg whites, these waffles are one of my all-time favorites.
Each waffle emerges from the iron deep golden in color, but its delicate crispness is at its best if the waffle is allowed to cool for a minute on a wire rack before serving. Cornmeal waffles are sublime with plain maple syrup, but blueberry compote or molasses-orange butter would be great as well. They reheat like superstars, so don't hesitate to keep extras in the freezer.
Ingredients
1 1/3

cups

fine stone-ground yellow cornmeal

1

cup

unbleached all-purpose flour

2 1/2

tablespoons

sugar

1 3/4

teaspoons

baking powder

1

teaspoon

fine sea salt

1/4

teaspoon

baking soda

2

large eggs, separated

2 1/3

cups

buttermilk, at room temperature

6

tablespoons

unsalted butter, melted and cooled slightly
Directions
Preheat your waffle iron.
In a large bowl, whisk together the cornmeal, flour, sugar, baking powder, salt and baking soda until well combined.
In a medium bowl, whisk the egg yolks and buttermilk until combined. Gradually whisk in the butter.
Pour the liquid ingredients into the dry ingredients and whisk gently just until the batter is evenly moistened. It's fine if some small lumps remain. The batter will be quite thick.
In a clean medium bowl, with a clean whisk, rotary beater or handheld mixer, beat the egg whites until they hold soft peaks. Using a rubber spatula, slide the beaten whites onto the batter and gently fold them in.
Pour a generous 1/2 cup of the batter (or the waffler manufacturer's recommended amount) into the center of the waffle iron. Use the rubber spatula to spread the batter to about 1/2 in from the waffler's edge. Close the lid and bake the waffle to the desired doneness.
Remove the waffle and let it cool for a minute or so on the wire rack before serving. Or set it on the wire rack and slide the baking sheet into the oven to keep the waffle warm. Bake the remaining batter, allowing each waffle to cool a bit before serving, or transferring each one to the rack in the oven.
More waffles recipes for brunch on Food Republic: