Middle Eastern Manti: Make These Goat Cheese Dumplings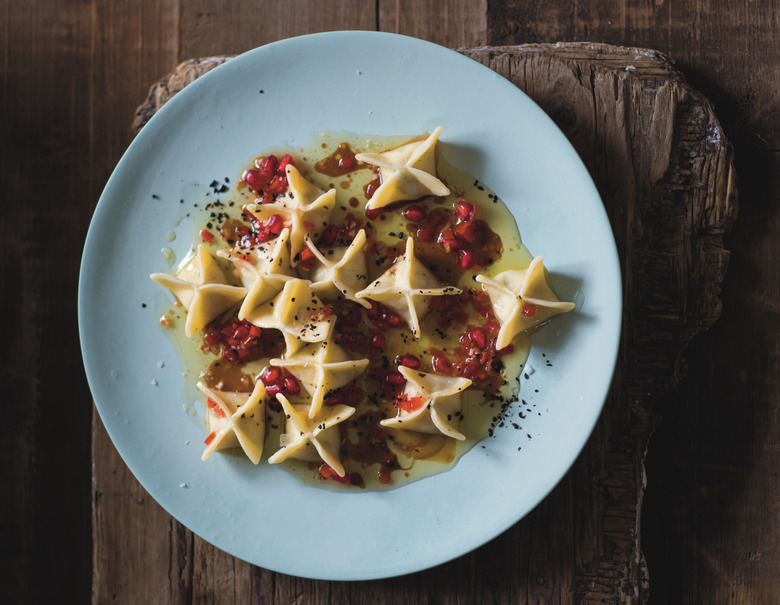 We may receive a commission on purchases made from links.
Nobody puts out a better Middle Eastern cookbook than the husband-wife team of Greg and Lucy Malouf. Their recipes come with beautiful stories that will inspired you to make something phenomenal in your kitchen, and add a new favorite to your repertoire. These goat cheese dumplings, known over the Middle East as manti, are delectable pouches of goodness that everyone can enjoy. 
One doesn't usually associate pasta with Middle Eastern cuisine, but noodles and dumplings, in particular, are popular in several countries around the region. Stuffed pasta dumplings, called manti, are a key feature of Turkish cooking, and it's thought that they date back to the eighth century, when they were introduced to Anatolia from Northern China by the Uyghurs. The very best manti are teeny-tiny, and require a great deal of patience and skill to make. (See our earlier book, Turquoise, if you are interested in learning how to make them.) In this larger form they are much more forgiving, and just as delicious. Manti are usually stuffed with minced lamb and served under a blanket of creamy yoghurt. Our vegetarian version are stuffed with herb-spiked fresh goat's cheese and dressed in a light and tangy pomegranate vinaigrette.
Reprinted with permission from New Feast: Modern Middle Eastern Vegetarian
Middle Eastern Manti: Make These Goat Cheese Dumplings
These goat cheese dumplings, known over the Middle East as manti, are delectable pouches of goodness that everyone can enjoy.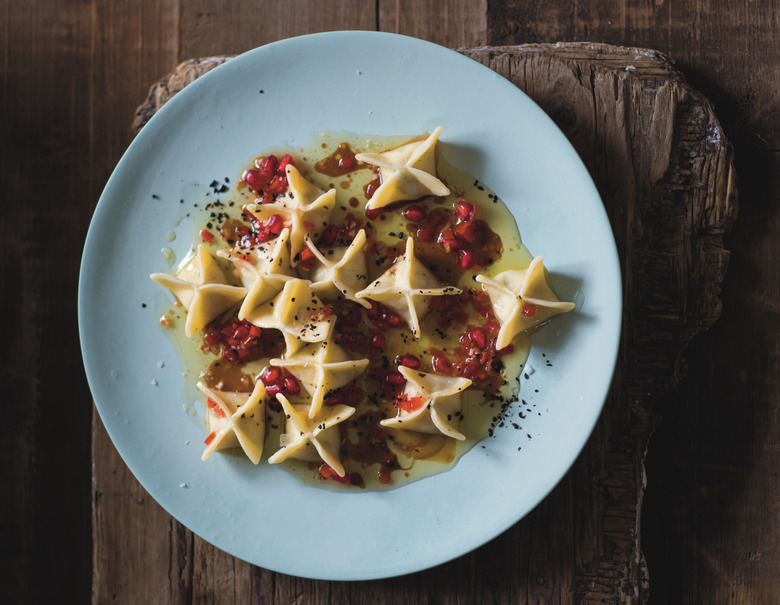 Ingredients
2-3 large eggs
1-2 tablespoons olive oil
9 ounces pasta flour (superfine '00' grade)
1 teaspoon salt
1 teaspoon butter
1 shallot
1 small clove garlic
9 ounces fresh goat cheese
1/4 teaspoon salt freshly ground white pepper
Finely grated zest of 1/2 lemon
1/2 teaspoon dried mint
1 teaspoon shredded mint leaves
Egg wash
2 medium vine-ripened tomatoes
1 shallot
1 clove garlic
3 tablespoons pomegranate seeds
juice of 1 lemon
1 tablespoon pomegrante molasses
4 ounces extra-virgin olive oil
1/2 teaspoon Turkish black chili flakes
Directions
To make the dressing, combine all the ingredients, except for the chilli flakes, in a bowl and whisk together well. Taste and adjust the balance of sour, sweet and salty, to taste. Pour into a lidded jar and store in the fridge for up to 5 days. Bring to room temperature before serving.
To make the dough, lightly beat 2 of the eggs together with a tablespoon of oil, then add them to the bowl of a stand-mixer with the flour and salt. Use your hands to bring it together to a rough dough. If it seems too stiff, add a little more egg and oil; too wet, a little more flour. Once it has come together, knead with the dough hook on a slow speed for 2–3 minutes until well combined. Turn it out onto your work surface and knead it by hand for a few more minutes until it is very smooth and pliable. After kneading, divide the dough into 2 pieces and wrap them in cling film and leave it to rest and relax at room temperature for at least an hour. It will also keep well in the fridge for up to 2 days.
To make the filling, melt the butter in a pan. Add the shallot and garlic and sauté gently for 8-10 minutes, or until soft and translucent. Remove from the heat and leave to cool completely.
Crumble the goat cheese into a mixing bowl and add the cold shallot mixture, the salt and pepper, lemon zest and the dried and fresh mint. Mash it all together well with a fork.
When ready to make the dumplings, use a floured rolling pin to flatten out one piece of dough on a floured work surface. Shape into a rough rectangle then roll it through a pasta machine, working your way from the widest setting down to the second-narrowest setting. (We find the narrowest can make the pasta very fragile.)
Lay out the strip of pasta dough flat on your work surface and use a pastry cutter to cut out 2 ½ inch discs. Blob a heaped spoonful of filling in the centre of each disc and lightly brush the perimeter with egg wash. To make the traditional manti shape, bring up the sides of the dough over the filling and press to seal at the top. Bring the other two sides up, carefully pinching the side 'seams' as you go to seal them. You are aiming to achieve a four-cornered star-like shape. For an easier option, simply fold the pasta over the filling to form little half-moons and squeeze to seal. Repeat with the remaining dough and filling.
Place the manti on a lightly floured tray as you complete them, until all the dough and filling has been used. The manti can be kept in the fridge, covered with cling film, for a few hours.
When ready to cook, bring a large saucepan of salted water to the boil. Drop in the manti (you'll have to cook them in batches) and simmer for 3-4 minutes, or until tender. Use a slotted spoon to transfer the cooked manti to warm serving bowls.
Spoon on the tomato-pomegranate dressing, sprinkle with the black chili flakes and serve straight away.