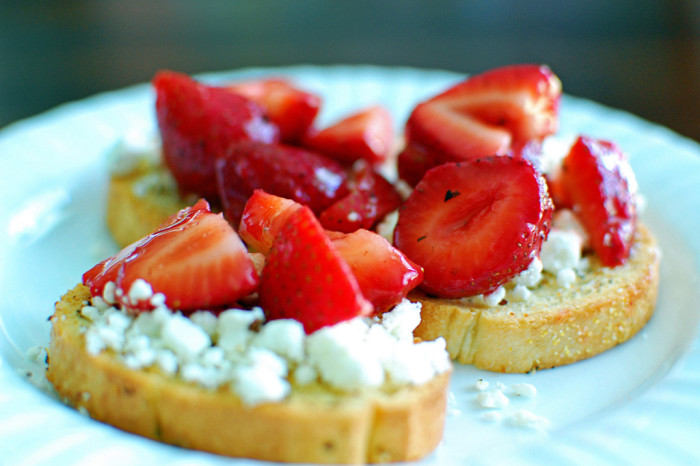 Bruschetta can be topped with basically anything you can dream up. In this case the chef specifically created this to enjoy with a light white wine, like Pinot Grigio, for a summer wine pairing.
Ingredients
2

heads

garlic, peeled

1/2

cup

olive oil, plus extra for the toast

1

sprig

fresh thyme

1

bay leaf

1

package

goat cheese

4

slices

sourdough bread, cut in half

1

pinch

Celtic sea salt

1

pint

strawberries, hulled and sliced (about 2 cups)

1/4

cup

balsamic glaze

1

tablespoon

fresh mint, chopped
Directions
1. Pour the oil into a pan, set over a medium heat and add the garlic.
2. Fry until lightly colored, then add the herbs. Turn the heat to low and cook, stirring occasionally, until soft.
3. Let cool slightly. Beat together with the cooking oil to form a paste.
4. Whisk the goat cheese.
5. Brush the sourdough with olive oil, season with Celtic sea salt and toast under the grill.
6. To serve, cut the toast into bite-sized pieces, spread a little garlic purée, smear some whipped goat cheese over and top with strawberries.
7. Drizzle balsamic glaze and add a sprig of mint for a final touch.