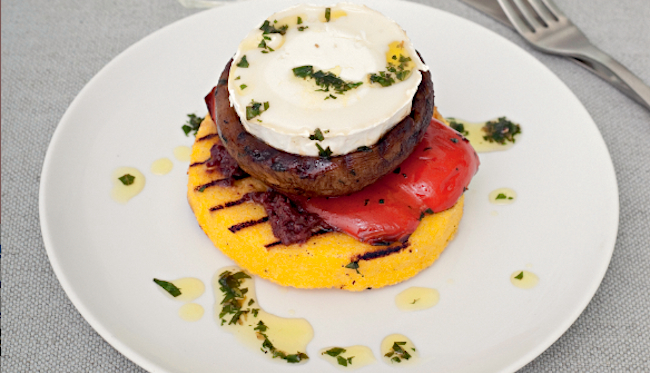 Vegetarian guests deserve more than a dry old veggie burger from the freezer, so why not make something to make everyone's mouth water, even the die-hard carnivores? Take the goat cheese from the fridge a good hour before you use it for the best creamy texture.
Reprinted with permission from Fresh & Easy: What to Cook and How to Cook it
Ingredients
6

cups

vegetable broth

2

ounces

Parmesan cheese (or other strong-tasting

2 1/2

cups

quick-cooking polenta

4

tablespoons

unsalted butter

3/4

cup

extra-virgin olive oil, plus extra for brushing

2

cloves

garlic

1

bunch

fresh basil or flat-leaf parsley

6

large

portobello mushrooms

2-3

red bell peppers

3

x 3 1/2 ounces

ripe-rinded goat cheese

2

tablespoons

tapenade or pesto

sea salt and freshly ground black pepper
Directions
Pour the broth into a large pan, then bring to a boil. While you wait, finely grate the Parmesan. Carefully pour the polenta into the boiling broth in a steady stream, stirring constantly with a wooden spoon, until all of the polenta has been added. The polenta will thicken up quickly.
Cook for a couple of minutes until very thick, stirring with a long-handed wooden spoon, as it will bubble and pop as it boils. Take the pan from the heat, then stir in the grated cheese, the butter, and plenty of salt and pepper. Taste a little bit – you may be surprised how much seasoning polenta can need.
Rub a little oil around the inside of an 8 x 12-inch baking pan, then pour in the polenta and smooth the top. Let cool for at least 10 minutes. It will set firm. You can do this a day ahead if you like – just keep it covered and in the fridge.
Make the herbed oil and prepare the vegetables. Crush the garlic and finely chop the basil. Add to a bowl with the remaining oil and season with salt and pepper.
If the mushroom stems are poking above the cap, then trim to cap level with a knife. Deseed, then quarter, the bell peppers. Brush the bell peppers and mushrooms with a little herbed oil.
Using a 4-inch cookie cutter (or you can use a saucer as a template to cut around), cut out 6 circles from the polenta. Cut the goat cheeses into 6 halves.
Before you begin cooking, check that your charcoal is glowing white hot, or your gas grill is preheated to 400ºF. Lightly brush the polenta with a little plain oil. Cook the polenta for a couple of minutes on each side, either directly on the grill or in a grill pan set over the grill, until golden and crisp. Set aside and keep warm.
Place the mushrooms and bell peppers directly on the grill rack for about 5 minutes on each side, until golden and softened. Spoon some tapenade or pesto into the middle of each circle of polenta, then top with a piece of pepper, an upturned mushroom and then a circle of goat cheese. Drizzle with more of the garlic and basil oil, then serve.
Try out these other vegetarian salads on Food Republic: