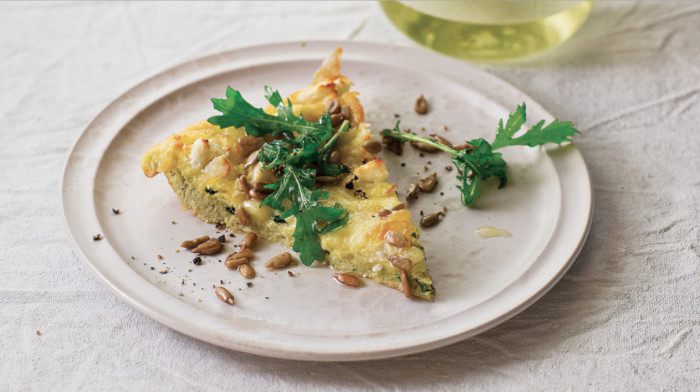 Brunch at Sarabeth's! If you're a New Yorker, chances are you've said it at some point. If you're not, pick up a copy of chef-owner Sarabeth Levine's new collection of her famed breakfast recipes, skip the line and re-create these delicious dishes at home. 
What's really nice here is the way the two cheeses play off each other. The sharp, tangy goat cheese gets very soft, and the stronger Gruyère becomes melty, but each maintains its own identity. Peppery arugula ties it all together. The cooked greens wilt into the cheesy frittata, and the bright arugula side salad cuts through the richness of the frittata and makes this a complete meal.
Reprinted with permission from Sarabeth's Good Morning Cookbook
Ingredients
12

large eggs

2

tablespoons

clarified butter or extra-virgin olive oil

1

cup

packed arugula

2/3

cup

gruyere cheese, coarsely grated

3

ounces

fresh goat cheese, broken into small pieces
Salad
2

cups

packed arugula

Juice of 1/2 small lemon

2

tablespoons

extra-virgin olive oil

Kosher salt and freshly ground black pepper

1/3

cup

raw hulled sunflower seeds, toasted
Directions
For the frittata and salad
Position a rack in the center of the oven and preheat to 350°F. (This is a good time to toast the sunflower seeds for the salad.)

In a large bowl, using an immersion (stick) blender or whisk, beat the eggs until well combined. Strain the eggs through a fine-mesh sieve into another bowl to remove any thick strands of chalazae.

In an ovenproof nonstick 10-inch skillet, heat 1 tablespoon clarified butter over medium heat. Add the arugula and cook, stirring, for 1 minute. Add the remaining 1 tablespoon clarified butter and the eggs and immediately reduce the heat to medium-low. Cook the eggs just until they are set around the edges. Using a silicone spatula, stir the eggs 2 or 3 revolutions, just to combine the cooked and uncooked portions. Continue cooking until the eggs are set around the edges again, then lift up the edges of the frittata with the spatula and tilt the pan to allow any uncooked eggs to flow underneath the frittata. Add the Gruyère and goat cheese and cook until the edges set once again, then repeat the tilting procedure. The frittata should look shiny and uncooked on top; the cheeses will not be melted yet.

Place in the oven and bake until the cheeses are melted and the frittata is slightly puffed, about 8 minutes.

While the frittata bakes, prepare the salad: In a large bowl, toss the arugula with the lemon juice and oil. Season to taste with salt and pepper and toss again.

To serve, cut the frittata into wedges and top with the arugula salad. Sprinkle each serving with some of the toasted sunflower seeds.