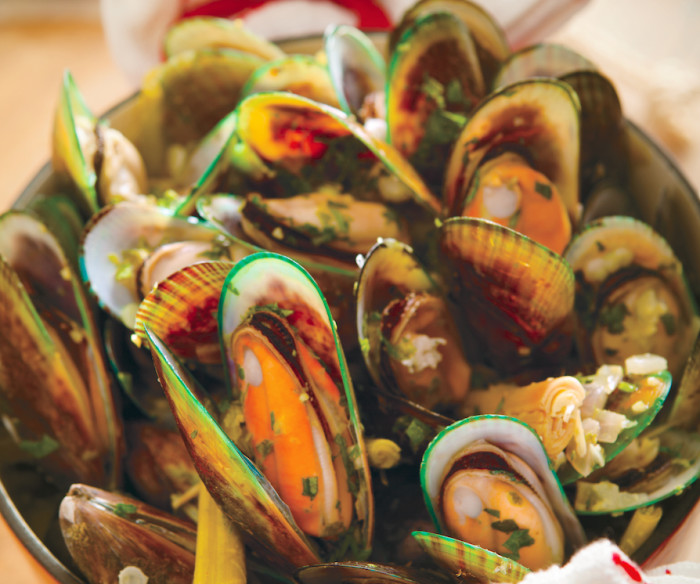 Chefs Ron Oliver and Bernard Guillas of the renowned Marine Room in La Jolla, California have released the follow-up to their popular self-published cookbook, Two Chefs, One World. Their new book, Two Chefs, One Catch, focuses exclusively on the bounty of the sea, and how to prepare it masterfully for every fish lover you know. 
In the late 15th century, while looking for a direct sea route from Europe to India for the spice trade, the Portuguese discovered Goa on the southwestern coast of India. Goan cuisine blends the pungent spice of Indian food with the influences garnered from over four hundred years of Portuguese colonialism. On the river banks, simmering pots of seafood curries including fish, clams, crab, prawns, black mussels and longish green mussels called shinnaneo steam away, tended to by local fishermen and their families. The powerful aromatic broth, curry paste, garlic, cumin, coriander and cinnamon bark are tamed by the creaminess of coconut milk, bringing a beautiful balance to the broth. Cooked within five minutes or so, the mussels are served on the go during the hustle and bustle of the morning rush!
Ingredients
2

tablespoons

olive oil

1

cup

red onions, diced

2

tablespoons

ginger, finely chopped

1

small stalk

lemongrass, crushed and cut in 3-inch pieces

1

teaspoon

curry powder

1/2

cup

pineapple juice

1

cup

coconut milk

4

pounds

green mussels, scrubbed

1

lime

2

tablespoons

fresh cilantro, chopped

1/4

cup

scallions, finely sliced

1

small

hot chile pepper, seeded and thinly sliced
Directions
Add olive oil to large stockpot over medium heat.
Add onions, ginger, lemongrass and curry powder.
Cook without browning, stirring often, for 2 minutes.
Add pineapple juice and coconut milk.
Reduce by half.
Add mussels. Cover. Raise heat to high.
Cook 3 minutes or until liquid starts to simmer. Uncover.
Use slotted spoon to rotate shells to cook evenly.
Cook 5 minutes or until all shells open and meat is plump but not overcooked. Uncover.
Zest and juice lime over the mussels.
Sprinkle with cilantro, scallions, and hot chile pepper.
Find more mussels on Food Republic: