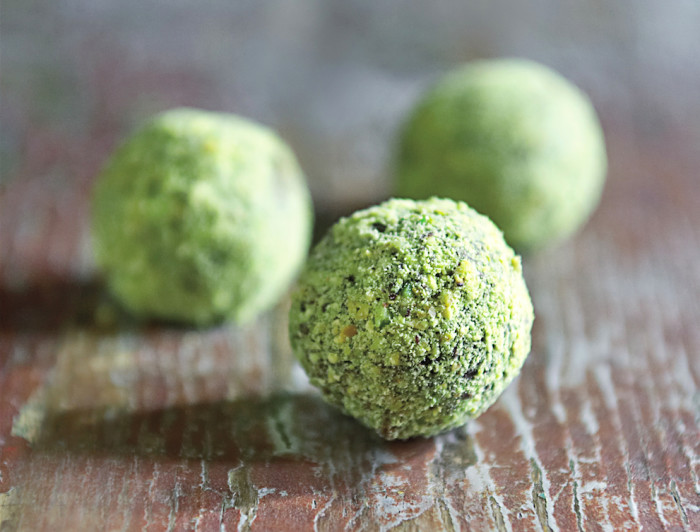 Master chocolatier Fritz Knipschildt guides you through classic and brand-new chocolate recipes in his recent cookbook, Chocopologie. Whether it's a simple sweet or a complex multistep dessert to impress your dinner guests, Chocopologie will leave a great taste in your mouth. Brush up on Knipschildt's expert tips at every step and whip up a batch of these pistachio truffles. 
I use a pistachio-flavored liqueur called Dumante to give these truffles a very adult, very impressive flavor kick. The crushed toasted pistachios that coat each truffle are the perfect final touch.
Ingredients
1

pound

70 to 75 percent bittersweet or semisweet chocolate, coarsely chopped

2

cups

heavy cream

1/2

cup plus 2 tablespoons

sugar

2

tablespoons

pistachio liqueur, such as Dumante

4

tablespoons

unsalted butter, softened

4

ounces

bittersweet or semisweet chocolate, coarsely chopped, for coating

2

cups

crushed toasted pistachios, for coating
Directions
Put the pound of chopped chocolate in a heatproof bowl.
In a heavy saucepan, heat the cream, sugar and liqueur over medium-high heat until boiling.
As soon as the cream mixture boils, slowly pour it over the chopped chocolate, whisking to blend and encourage melting.
Add the butter, 1 tablespoon at a time, whisking until the butter is completely incorporated and emulsified into the ganache.
Whisk until smooth and set aside until the ganache cools to warm room temperature (body temperature).
Cover the ganache and refrigerate for 1 to 4 hours.
Remove the ganache from the refrigerator.
Pinch off pieces about the size of walnuts and roll them between your palms. They do not have to be perfect rounds but can look a little uneven, like actual truffles.
Arrange the truffles on baking sheets and refrigerate for about 20 minutes.
Meanwhile, melt the remaining 4 ounces of chocolate. Let the chocolate cool slightly.
Spread the pistachios on a flat plate or shallow dish.
Wearing latex gloves, dip your fingers in the melted chocolate. Lift a rolled truffle from the baking sheet and dip it in the melted chocolate to coat.
Roll the coated truffle in the crushed nuts and set on a clean baking sheet or similar tray.
When all the truffles are dipped and rolled, let them set for 5 to 10 minutes before serving.
Find more chocolate confections on Food Republic: