Go French! Ham Baguette With Camembert And Arugula Recipe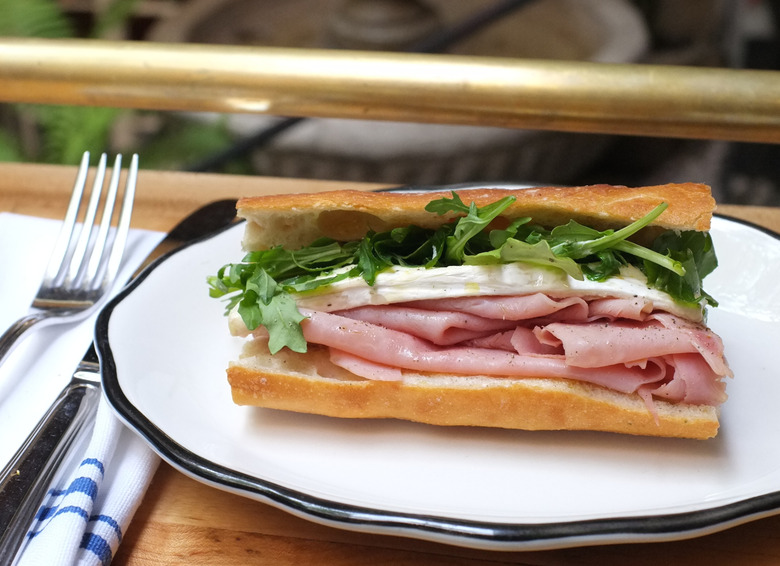 If there's one simple French dish you master, let it be a great baguette sandwich. This traditional Parisian recipe from Chef Michael Toscano of New York City's Montmartre restaurant features jambon de Paris — find this savory, slightly spiced ham at a charcuterie shop or substitute any other unsmoked ham. Top with sweet fig jam, creamy, pungent Camembert cheese and tender argula and enjoy.
Says the chef, "Something as simple as a ham baguette, executed with incredible ingredients, can make the perfect bite. In this version, we mix things up by adding sweet and savory elements with the fig jam and delicious French whole-grain mustard."
Go French! Ham Baguette With Camembert And Arugula Recipe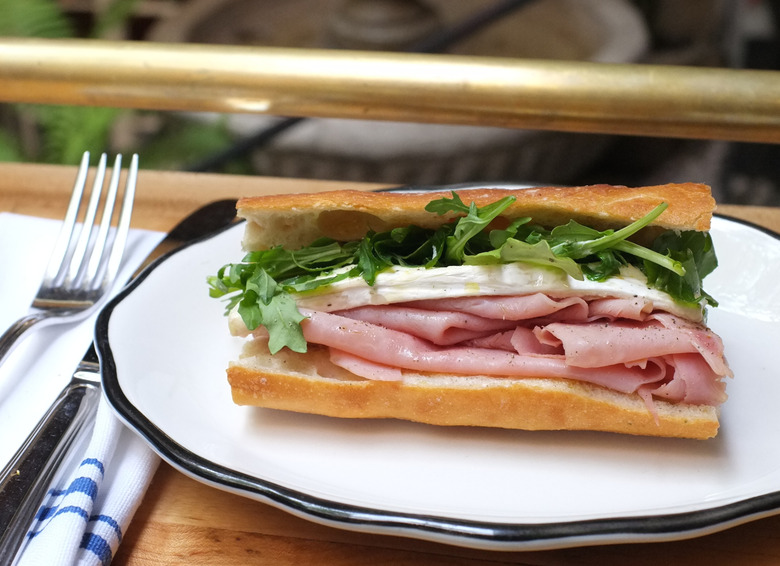 Ingredients
1 baguette
4 tablespoons butter
kosher salt
freshly ground black pepper
2 tablespoons fig jam
2 tablespoons whole-grain mustard
4 ounces thinly sliced jambon de Paris
3 ounces Camembert
1 cup baby arugula
Directions
Slice the baguette in half lengthwise, cutting about three-quarters of the way through.
Evenly coat the cut sides with the butter and season with salt and pepper.
Spread the fig jam & mustard over the butter on both sides.
Layer the ham, Camembert and arugula on the bottom half of the baguette.
Fold over the top half of the baguette and press gently to close.  
Cut the sandwich into the desired number of pieces and serve.
Chicago-Style Pork Chop Sandwiches
The Meal Plan: BBQ Pulled Pork Sandwiches & Sides
Italian Grilled Pork Sandwiches