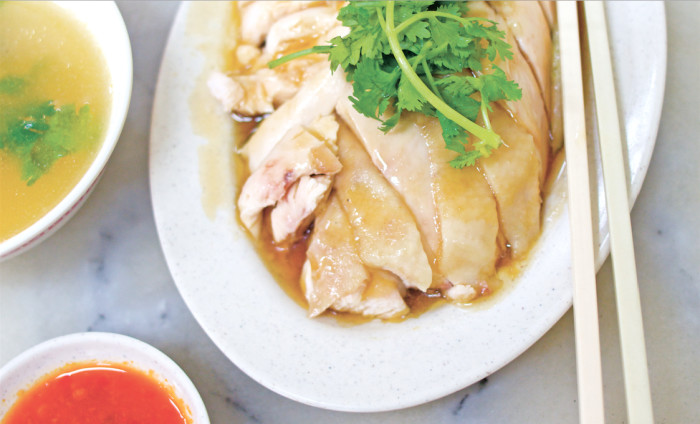 Name a major world city; it probably has a Chinatown, and the food there is likely excellent. Professional chef and photojournalist Jean-Francois Mallet has catalogued some of the world's best Chinatowns (and 100 of their most beloved recipes) in his new cookbook. Some Chinatowns lean Vietnamese, others Thai. Some boast regional Chinese menu items you've never seen before, and some have the best darn plate of chicken and rice this side of the Yangtze. Both are cooked with lots of ginger in fresh broth, resulting in tender meat and flavorful rice so good you may never cook rice in regular water again.
Ingredients
2

garlic cloves

1

ounce piece of

ginger

1

plump chicken, about 2 pounds, 12 ounces

4

tablespoons

soy sauce

2

teaspoons

sesame oil

1

bunch of

coriander (cilantro)
Rice
1 pound, 2 ounces

fragrant rice

1

teaspoon

goose fat

2

garlic cloves

1

small sweet onion

3/4

ounce piece of

ginger
Chili sauce
2

tablespoons

chili sauce

1/2

teaspoon

caster (superfine) sugar

juice of 2 limes
Ginger sauce
1 3/4

ounce piece of

ginger

1

tablespoon

peanut oil

1

spring onion (scallion) with its stem, finely chopped
Directions
For the chicken and rice
Crush the garlic with the skin on. Pour 2 liters (3½ pints/8½ cups) water into a large pan, add the finely sliced ginger and garlic, then bring to a boil.

Wash the chicken under cold running water and scrape the skin with the pointed end of a knife. Remove the fat around the tail end and set aside. Drop the chicken into the boiling water, reduce the heat to low and cook for 30 minutes. Turn off the heat, cover the pan and let the chicken finish cooking like this for another 30 minutes.

Meanwhile, wash the rice several times in cold water until the water runs clear, then spread it out on a cloth to dry.

Melt the goose fat and reserved chicken fat in a wok, add the peeled and chopped garlic, onion and ginger and cook for 5 minutes, stirring regularly so they don't brown. Add the rice, stir and cook until the grains turn transparent. Pour over 650 milliliters (1¼ pints/scant 3 cups) of the chicken broth and cover. Bring to a boil, then reduce the heat to the minimum and cook for 8-10 minutes.

Turn off the heat and wait 5 minutes before removing the lid. Drain the chicken and baste it with the soy sauce and sesame oil. Wash, strip and dry the coriander (cilantro). Prepare the sauces by mixing the respective ingredients together.

Chop the chicken and arrange the pieces on a large plate. Sprinkle over the coriander (cilantro) leaves and serve with the hot rice, the broth in a bowl and the sauces in bowls on the side.