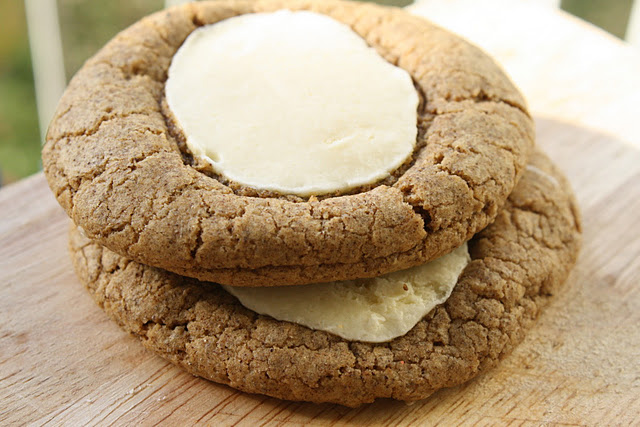 From the brilliant mind who brought us our unexpectly favorite treat of the fall, caramel apple Jell-O shots (featuring actual apple), food blogger Michelle Oddis has crafted one of our favorite cookies of the holiday season. We love cheesecake so much we ousted pumpkin pie as the quintessential Thanksgiving dessert. We love cookies so much we made them into pancakes. Michelle loves dessert so much she crammed two winners into one all-star, and not that we do cookie swaps or anything…but these would just dominate.
Ingredients
1

box

gingerbread cake and cookie mix

1/4

cup

hot water

2

tablespoons

butter or margarine, melted

4

ounces

cream cheese

1/4

cup

sugar

1/8

teaspoon

salt

1

egg yolk

1 1/2

teaspoons

sour cream

1/4

teaspoon

vanilla
Directions
Cheesecake:
Mix together cream cheese, sugar and salt with an electric mixer until smooth.
Add egg yolk, sour cream and vanilla.
Refrigerate while you go on to the next step of making the cookie dough.
Cookies:
Preheat oven to 375 degrees.
Stir gingerbread mix, water, and butter in medium bowl, using spoon, until dough forms.
Shape dough into 1 1/2 inch balls. Place on an ungreased cookie sheet. Make a deep indentation with your thumb in each cookie.
Bake cookies for 5 minutes and remove from oven.
Re-"thumb" the indentations if they widened in the oven.
Using half of a teaspoon, fill the indentations in the cookie with the cheesecake mixture.
Return to the oven for another 5-6 minutes. Cool completely before removing from cookie sheet.