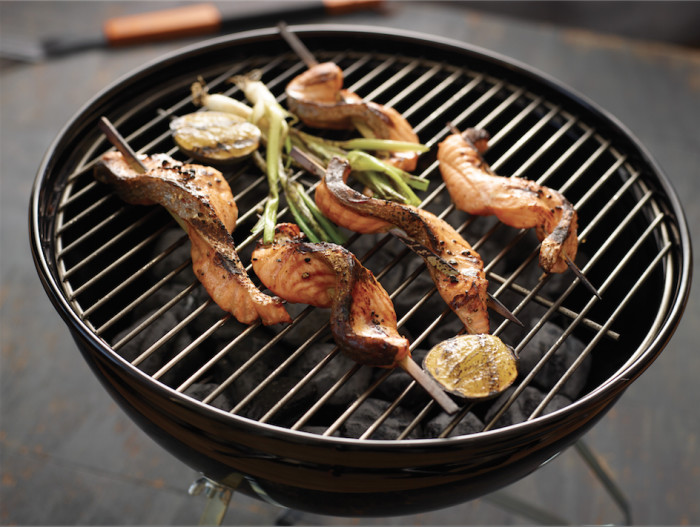 Grillmaster Lex Taylor is at it again with a book of recipes inspired by grilling techniques around the world. Whether you're craving meat, fish or vegetables from any food culture that cooks with fire, you'll find a brand-new way to enjoy it right here. This ginger glazed salmon on a stick is as beautiful to look at as it is delicious to eat. 
Ray Mears is always the calm and collected voice of outdoor chefs. And he knows the wild. Watching him grill salmon in primitive ways is always an inspiration and gets me thinking about backyard applications. In this recipe, I like to cut the salmon filets 1 inch wide with the skin on and skewer them lengthwise. For the backyard grill, use either metal or wooden skewers, and for a campfire, use a longer stick — the same kind you'd use to toast marshmallows.
Ingredients
2

tablespoons

Ginger Glaze

1/2

pound

fillet kings salmon (aka chinook salmon)

1

teaspoon

Maldon Salt

2

tablespoons

melted butter
Ginger Glaze
2

tablespoons

teriyaki sauce (brand of your choice)

1/4

teaspoon

paprika

1

tablespoon

ginger, minced

1

tablespoon

honey
Materials
Basting brush, Aluminum foil, 4 wood skewers, 10 inches long
Directions
For the glaze
Mix the orange juice, honey, soy sauce, ginger, and vinegar in a small saucepan over high heat and reduce by one-third. If the mixture becomes too tacky, loosen it with a tablespoon of apple cider vinegar.
For the salmon
Bring the grill to medium-high heat.

Cut the salmon fillet into long, 1-inch-wide strips. Pat them dry and sprinkle them with the salt.

Measure out 2 tablespoons of Ginger Glaze, reserving the remainder to serve with the grilled fish. Mix the melted butter with the 2 tablespoons of Ginger Glaze.

With the salmon strips laying skin side down, brush the flesh side of the strips with the butter and glaze mixture.

Drive the skewers lengthwise through the salmon strips.

Optional: Use a brick or aluminum foil bridge to prop up one side of the skewers so the fish sits right above the grill grates without touching them.

Grill the skewers for 5 to 7 minutes total, while rotating them constantly.

The salmon is done when it becomes flakey. Serve it with the reserved Ginger Glaze.