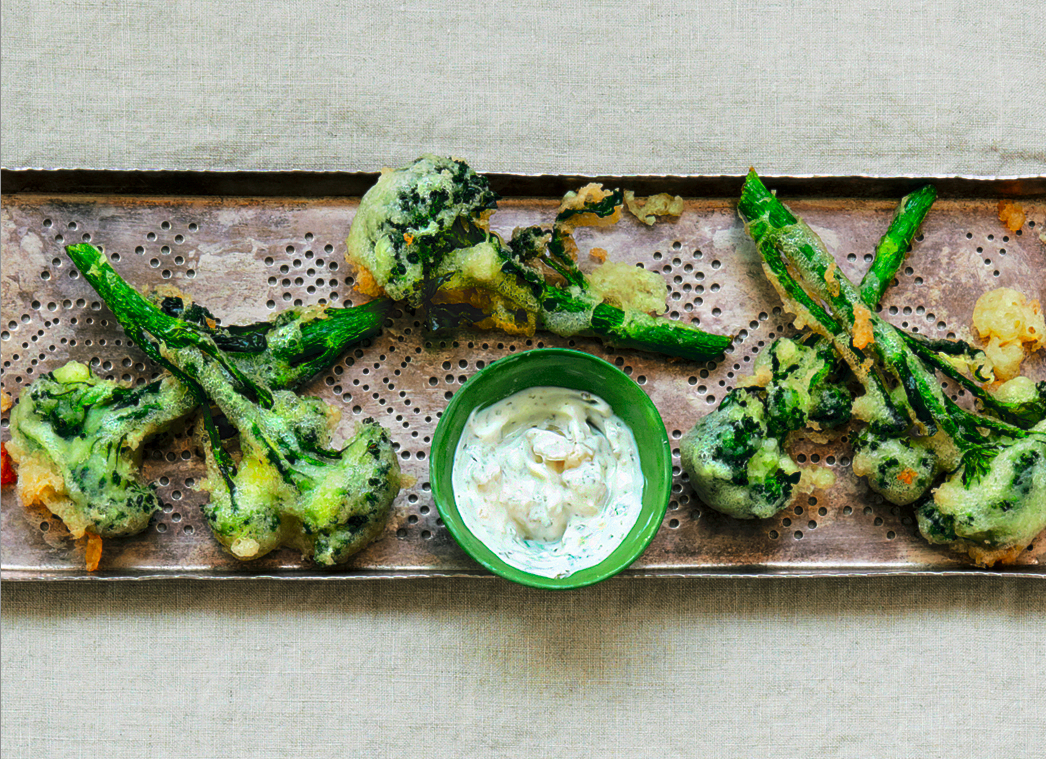 If the vast world of spices, whole and ground, seems a little exotic to you, pick up a copy of chef and cookbook author Paul Merrett's Spice Odyssey. Learn the basics of commonly used spices, then branch out and apply your knowledge to dishes from everyday classic to never-before-seen global specialties. First up, a recipe for ginger beer-battered broccoli tempura with yogurt sauce.
I tend to use long-stemmed broccoli. I think the stem is the best part and should never be wasted, particularly if you grow your own. What the crunchy battered broccoli really needs is a clean-tasting yogurt dip. This one is based on the sort you get with your poppadoms in an Indian restaurant and is so versatile — I make gallons and use it with loads of different things. Anything cooked quickly in a tempura batter is best done at the last minute, so it's important to have everything ready, including serving dishes and dip, before you start cooking.
Ingredients
Yogurt Dip
2 1/2

cups

Greek yogurt

1/2

cup

mango chutney

2

tablespoons

mint sauce (ready-made is fine)
Broccoli Tempura
2

cups

tempura flour

2

cups

ginger ale or ginger beer, chilled

2

quarts

vegetable oil, for frying

10

ounces

broccolini
Directions
For the yogurt dip:
Spoon your yogurt into a large bowl and stir in the mango chutney and mint sauce. If the chutney contains large pieces of mango, you may wish to chop it up a little before stirring in.
For the broccoli tempura:
Pour the flour into a mixing bowl and pour in the ginger ale or ginger beer while gently whisking. Don't overwhisk the batter: a few small lumps will merely make it seem more authentic and crunchy.
Pour the oil into a large, heavy-bottomed casserole pot and heat to 325°F. (If you don't own a thermometer, I'd advise asking for one for your birthday, but as a very rustic alternative you could check the temperature by dropping in a small piece of white bread. If it sizzles and goes a goldenbrown color, you are good to go.)
Dip the broccoli into the batter one stem at a time, turning to make sure each stem is well coated. Allow any excess batter to drip off before carefully placing the broccoli into the hot oil.
Allow to sizzle for a few seconds before gently stirring the oil to make sure the broccoli stems do not stick together.
When golden-brown, carefully remove the broccoli using a slotted spoon and drain on paper towels.
Serve immediately alongside the dip.
Find more fried veggie recipes on Food Republic: