General Tso Fried Chicken Recipe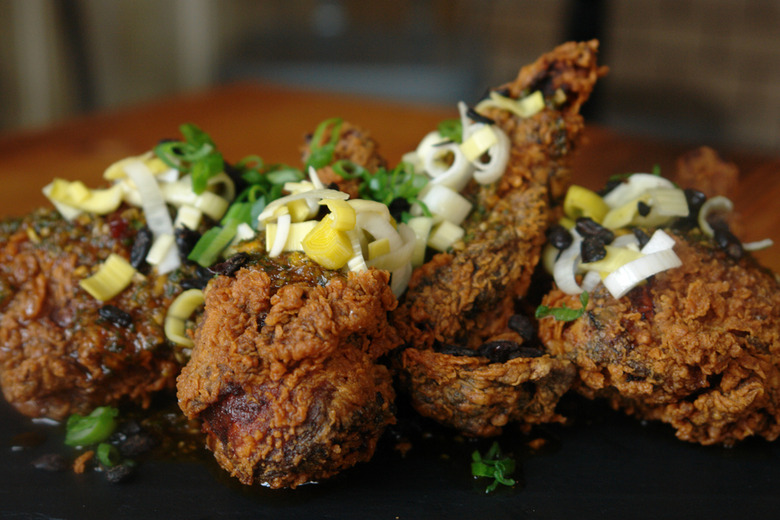 Need a Brooklyn restaurant recommendation? Put down the Yelp and grab a table at Martha, chef/owner Andres Valbuena's Fort Greene supper club-turned Chinese bistro. Valbuena's General Tso fried chicken has risen to the top of the heap as Martha's most popular dish, which led to a spin-off project named "Tso," you can enjoy all weekend long at Smorgasburg. Or you can make it at home! But be forewarned: you may never make regular fried chicken again.
"The inspiration ​for the dish​ is pretty much at the center of most things we do: it's the American/Chinese crossover which lends itself to so many things that just taste so damn good," says the chef. "I'm glad to say that the chicken ​is very, very popular. Our number-one entrée by far."
General Tso Fried Chicken Recipe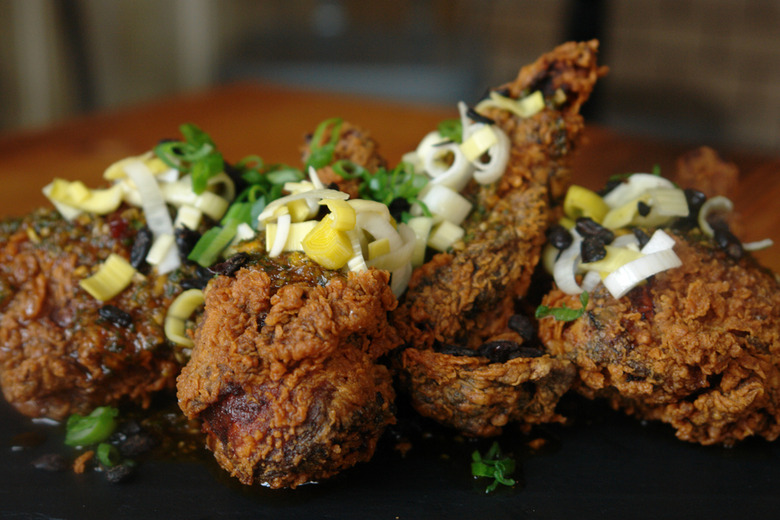 Ingredients
1 whole chicken
vegetable oil
1 quart buttermilk
1 teaspoon Chinese 5 spice
1 teaspoon cumin
1 teaspoon Szechuan peppercorns
1/4 cup Sriracha
1 cup dehydrated mushroom powder
2 cups all purpose flour
1 teaspoon Chinese 5 spice
1 teaspoon cumin
1 teaspoon Szechuan peppercorns
1/8 cup dehydrated mushroom powder
1 cup honey
1/4 cup garlic
1/4 cup ginger
1/2 bunch cilantro
1 cup Sriracha
1/8 cup fermented shoyu
4 tablespoons dehydrated mushroom powder
1/2 cup Chinese fermented dried black beans
1/2 cup scallions
1/2 cup leeks
1 large leek
1 cup rice vinegar
1 cup sugar
1 cup ice water
Directions
Whisk all ingredients together until combined.
To toast spices, place on a baking sheet in a 300°F oven for about 10 minutes, or until you start to smell them.
Spices can then be ground in a spice or coffee grinder. (Note: If you cannot find mushroom powder, use salt to taste.)
Sift all ingredients together until evenly combined.
Whisk all ingredients together until incorporated.
Feel free to use these quantities as a guideline - if you want it more sweet, use more honey. Love spice? Use more sriracha.
Slice the leeks very thin, on a mandoline if you have one.
Heat the rice vinegar and sugar together until sugar dissolves, then add ice water to cool it down.
Finally, add leeks. Let sit for at least one hour, overnight if possible.
Heat your oil in a large, deep stockpot, enough to fully cover the amount of chicken you plan to fry. If you have a deep fryer, use it instead.
Put some of the flour mixture in a sturdy paper bag (like a grocery bag) and add a few pieces of chicken. Shake until chicken is coated completely. 
When oil is hot, fry the chicken. Repeat until all the chicken is fried, frying a few pieces at a time.
Place the chicken pieces on a serving dish.
Spoon some of the glaze over the chicken, then add garnish.
Serve and enjoy!
Brooklyn Bowl's World-Famous Fried Chicken Recipe, Right Here
Hot Bird! Mexican Fried Chicken Recipe
Chipotle Popcorn Chicken Recipe