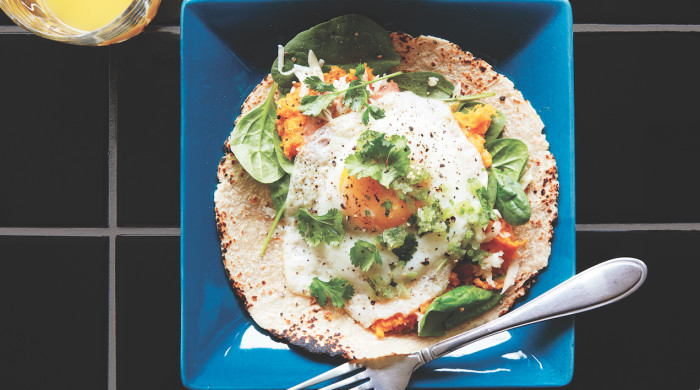 Leave it to West Coast guide to the good life Sunset Magazine to throw together a breakfast burrito that sounds so delicious, we'll be ditching pancakes for a while. 
The field of concoctions flying under the flag "breakfast burrito" is a crowded one. But Liz and Tim's version of what might arguably be California's favorite breakfast is a superb standout. Bright and appealing, crisp, green, fresh — these are all terms that apply. Even if the view out your window is not of softly rolling waves, you might find yourself saying brightly to your breakfast table partner, "Surf's up!" Or maybe it's just me.
Reprinted with permission from Sunset Eating Up The West Coast
Ingredients
Sweet potato–garlic mash
1

large sweet potato (about 12 ounces), peeled and cut into 1-inch chunks

4

roasted garlic cloves

2

tablespoons

extra-virgin olive oil

1/2

teaspoon

fine sea salt

1/4

teaspoon

pepper
1

cup

refried beans

2

teaspoons

olive oil, canola oil or butter

4

large eggs

4 6-inch

corn tortillas, homemade or purchased

1

cup

baby spinach leaves

1

cup

grated Monterey jack cheese or medium-sharp cheddar cheese or a mixture

3/4

cup

purchased tomatillo salsa

About 1/4

cup

sour cream

Cilantro leaves for garnish
Directions
For the burrito
Make the mash: Place a steamer basket over a pot of simmering water. Steam the sweet potato until completely tender, 8 to 10 minutes. Transfer to a medium bowl and add the roasted garlic, oil, salt, and pepper. Mash with a fork until almost smooth.

Warm the refried beans in a small saucepan over medium heat. In a nonstick frying pan, warm the oil over medium heat. Break the eggs into the pan, working in a clockwise direction; immediately cover the pan and reduce the heat to medium-low. Fry for about 3 minutes for sunny-side up, or to your desired doneness.

Using tongs, hold a tortilla over the gas flame of the stove just until softened, 30 to 60 seconds, turning to warm evenly; don't let it burn. (Alternatively, wrap all 4 tortillas in foil and warm in a 200° oven for 20 minutes before starting.) Place a warm tortilla on each plate and top with a quarter of the spinach. Top the spinach with a spoonful of sweet potato mash, then a spoonful of beans, dividing evenly, and then sprinkle with 1/4 cup cheese. Place a fried egg on top and finish with a spoonful of salsa, a dollop of sour cream, and a few cilantro leaves. Serve with additional salsa on the side.