Holy Frijoles! Make These Garbanzos Con Chile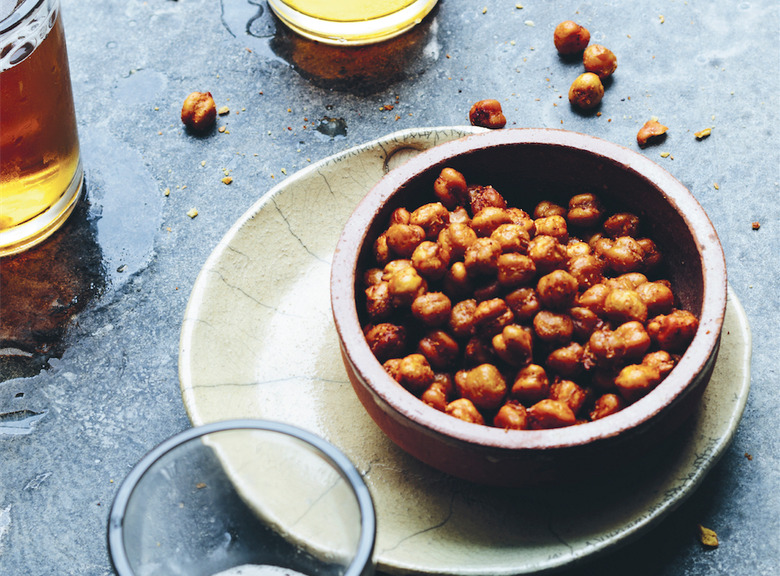 We may receive a commission on purchases made from links.
Nopalito, the San Francisco Mexican eatery that's captured hearts and appetites all over the city, has a new cookbook out that's going to add a little fire to your cocina Mexicano. These garbanzos con chile are just about the best crunchy-salty-spicy snacks you can imagine.
When we were growing up in Mexico, fried chile-and-lime-spiced peanuts were the snack we would eat while hanging around, watching movies, or waiting for dinner. Since it is difficult to find organic peanuts in California (and they can be expensive), we tried the recipe with fried dried chickpeas instead. It works perfectly, and the crunchy, salty little chickpeas are addictive.
While you can use store-bought chili powders, making your own is easy and the result is so much more flavorful. Feel free to play with the amount and type, such as upping the ratio of guajillos, which are less spicy than the chiles de árbol.
This recipe will seem like it makes a ton of chickpeas while you are cooking, but don't worry: the chickpeas will shrink down significantly when they fry.
Holy Frijoles! Make These Garbanzos Con Chile
These garbanzos con chile from SF's Nopalito are just about the best crunchy-salty-spicy snacks you can imagine. Get frying!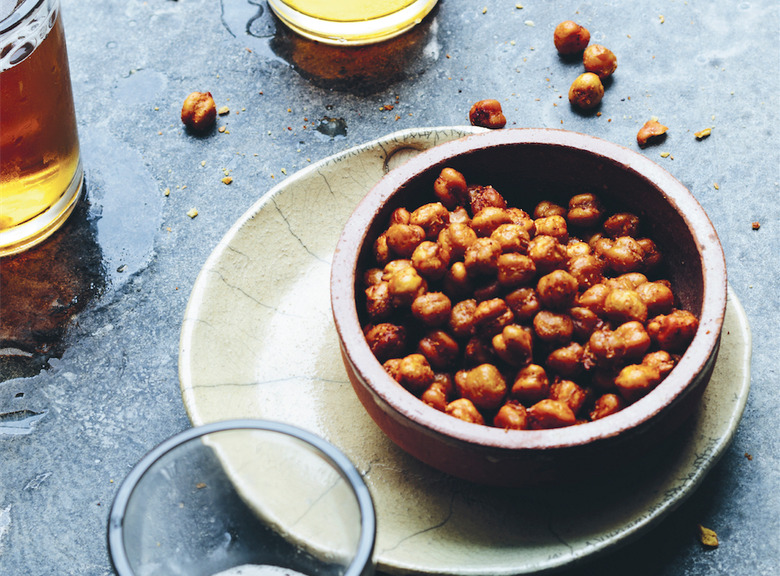 Ingredients
4 cups dried chickpeas
5 tablespoons kosher salt
2 quarts rice bran oil or canola oil
2 tablespoons Nopalito Spices or store-bought Mexican chili powder
Directions
Preheat the oven to 350°F. Add the chickpeas to a large ovenproof pot, then fill with water. Add 3 tablespoons of the salt, cover the pot, transfer to the oven, and bake for 2 hours. Remove and drain completely in a colander. Let the chickpeas cool.
Set a medium-large heatproof bowl next to the stove. Add the oil to a large, deep-sided skillet or pot, and heat until it registers 350°F on a deep-fat thermometer. Add the chickpeas and let cook until golden-brown and crunchy, about 15 minutes.
Using a slotted spoon or spider skimmer, remove the chickpeas and transfer them to the bowl. While they're still hot, mix them with the chili powder and the remaining 3 tablespoons salt. Let cool completely and serve. Will keep for 7 to 10 days stored in an airtight container.