Haven's Kitchen Makes A Killer Garbanzo Feta Salad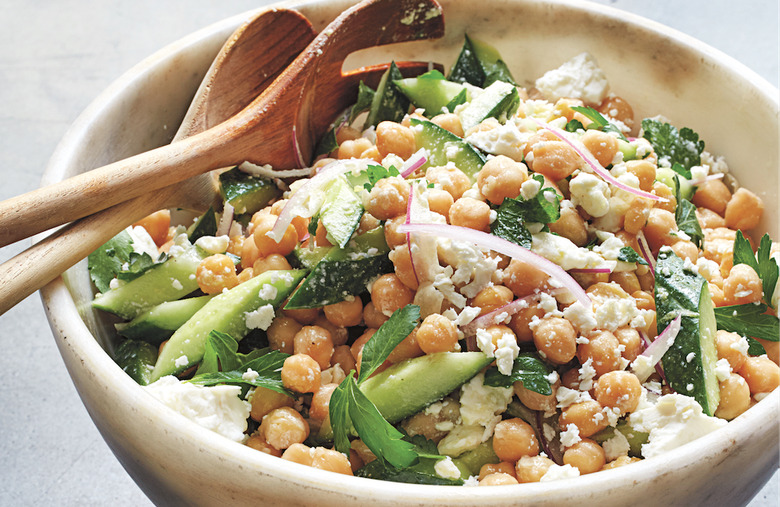 We may receive a commission on purchases made from links.
Step into NYC's Haven's Kitchen, a cooking school and café that focuses on food waste, sustainability issues and responsible sourcing. This garbanzo feta salad is an instant picnic classic — make it today!
Even people with an aversion to beans like garbanzo beans, or chickpeas, for their nutty flavor and firm texture. They can be a bit bland and dry by themselves, though, so this recipe adds flavor, texture, and color with feta, red onion, cucumber, and parsley. Feel free to use canned beans. The vinaigrette is the icing on the cake.
Reprinted with permission from The Haven's Kitchen Cooking School
Haven's Kitchen Makes A Killer Garbanzo Feta Salad
This garbanzo feta salad from NYC's Haven's Kitchen cooking school is a delicious instant picnic classic — make it today!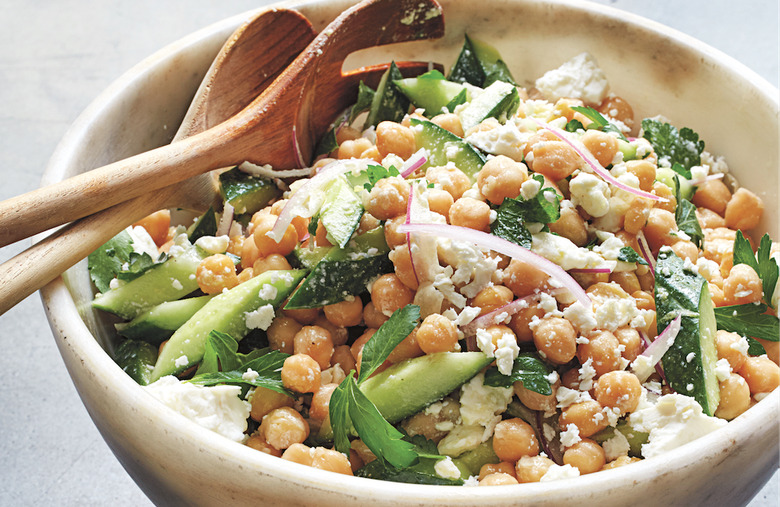 Ingredients
1 cup dried garbanzos
fine sea salt
1 small red onion
2 Persian cucumbers or 1 small English cucumber
1/4 cup crumbled feta
1/4 cup torn fresh flat-leaf parsley
1 cup mixed citrus juice
1 tablespoon Dijon mustard
Fine sea salt and freshly ground black pepper
1 cup extra-virgin olive oil
Directions
:::vinaigrette:::
In a medium bowl, whisk together the juice, zest, mustard, a pinch of salt, and pepper to taste. Slowly whisk in the olive oil until well blended.
Finish with additional salt and pepper as desired.
:::salad:::
If using dried beans, after soaking, rinse the garbanzos, place in a medium saucepan, and cover with double their volume of water. Bring to a boil, reduce to a simmer, and cook until the beans are tender but hold their shape, about 45 minutes. Remove from the heat, add a large pinch or two of salt, and let sit for 15 minutes. Drain and put in a large serving bowl.
While the garbanzos are cooking, make the vinaigrette.
Drain the red onion and add to the garbanzos. Add the cucumber, feta, and parsley, drizzle on about ¼ cup of the vinaigrette, and toss to combine. Add more dressing and salt to taste. Serve at room temperature or chilled.