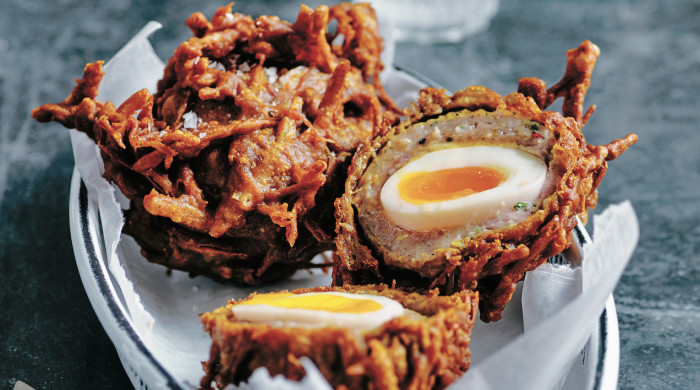 British cuisine is having its heyday — no longer does toast, hash, roast or mash conjure up the bland pub-style food of yesteryear. Join Duck & Waffle executive chef Dan Doherty as he jazzes up classics, creates new favorites and puts inventive spins on some of our favorite ethnic cuisines. 

My favorite hybrid, combining the worlds of Scotch eggs and onion bhajis. It has everything: subtle spice, crispiness, pork and a runny egg.
Ingredients
Scotch Egg Mix
9

ounces

sausage meat

1

garlic clove, finely chopped

1

small red chili, finely chopped

1/2

tablespoon

onion powder

A

pinch

finely chopped fresh coriander

1/2

tablespoon

finely grated ginger

1

egg yolk
Bhaji mix
4 1/2

tablespoons

chickpea flour

4 1/2

tablespoons

plain flour

1

teaspoon

garam masala

1

teaspoon

garlic powder

1

teaspoon

onion powder

1/4

teaspoon

cayenne pepper

1/2

teaspoon

ground turmeric

1/2

teaspoon

ground cumin

1/2

teaspoon

ground ginger

2

onions, finely sliced
Directions
For the egg
Bring a pan of water to the boil and add a pinch of salt. Boil the eggs
for 6 minutes. When cooked, remove and refresh in ice-cold water. When cool, shell the eggs and set them aside.

For the Scotch egg mix, combine all the ingredients in a bowl and keep in the fridge.

For the bhaji mix, put all the ingredients into a bowl and mix together; stir in just enough cold water to produce a thick, smooth batter.

Preheat a deep-fat fryer to 160°C (325°F).

To assemble the bhajis, take a ball of Scotch egg mix roughly the size
of an egg. Flatten it out, then wrap it around one of the soft-boiled eggs. Put the coated egg on a plate and repeat with the remaining
Scotch egg mix and eggs.

Roll each Scotch egg in flour and dust off the excess. Drop into the bhaji mix, then, using your hands, lift out and carefully lower into
the fryer.

The onions will spread out and look messy, but that's fine.
Fry them 2 at a time for 8 minutes, then remove from the fryer and
put on a plate lined with kitchen paper to drain the excess oil.