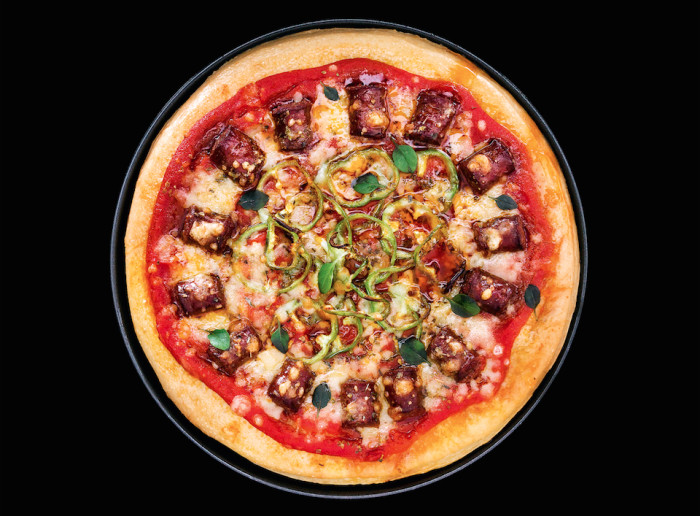 Nobody makes a sweet or savory tart like the French, which is why we're powering through this new book of recipes from Michelin-starred Paris chefs Frederic Anton and Christelle Brua. From seasonal fruit and rich chocolate to leafy greens, hearty fish and tender meat, there's a pastry shell for every filling you crave.
Ingredients
Pizza Dough
1

packet

active dry yeast (4 ounces)

A bit of

warm water in which to dissolve the yeast

1 1/4

cups

all-purpose flour

5

tablespoons

warm water

1/2

tablespoon

olive oil

1

small pinch

fine salt

1/3

cup

flour, for rolling out the dough
Topping
1

onion

2

tablespoons

olive oil

5

vine tomatoes

1

clove

garlic

1

sprig

thyme

Fine salt and black pepper

2

merguez sausages

3

mini-peppers

2

ounces

mozzarella cheese, diced

A few

leaves of

purple shiso
Directions
For the dough
Dilute the packet of yeast in a glass with a bit of warm water. Allow to rest for 15 to 20 minutes. Stir gently to dissolve the yeast in the water. Pour the flour into a bowl and form a well in the center. Add the 5 tablespoons of warm water, the olive oil, the fine salt and the diluted yeast mixture. Mix well, bringing the flour in bit by bit from the sides to the center of the well.

Sprinkle a bit of flour over the workspace. Knead the mixture with the palm of your hand, as long and as energetically as possible, in order to obtain a soft, elastic dough. Once the dough is well kneaded, cover it with a slightly damp dish towel. Allow to rest at room temperature for 90 minutes.

After the dough has rested, knead it again for a few moments. Gather the dough into an even ball. The pizza dough is ready to be used.
For the pizza
Preheat the oven to 350° F. Make the tomato coulis. Thinly slice the onion. Heat the olive oil in a saucepan, and add the onion. Quarter the vine tomatoes and add them, along with the garlic and the thyme. Season with salt and pepper. Simmer over low heat for 10 minutes. Purée the sauce in a blender or with an immersion blender, and pass it through a chinois.

On a floured work surface, roll out the pizza dough to 1/16-inch thick with a rolling pin. Place it in a floured pie pan. Pour the tomato coulis over the top. Cut the merguez sausages into sections about ¾ of an inch in length and place them on the tomato coulis. Use a mandoline to cut the mini-peppers into thin slices, and sprinkle them over the top. Finish by dicing the mozzarella and sprinkling it over the top of the pizza.

Bake for 15 minutes. Remove the pizza from the oven and garnish with the purple shiso. Serve immediately.