Full English Breakfast Recipe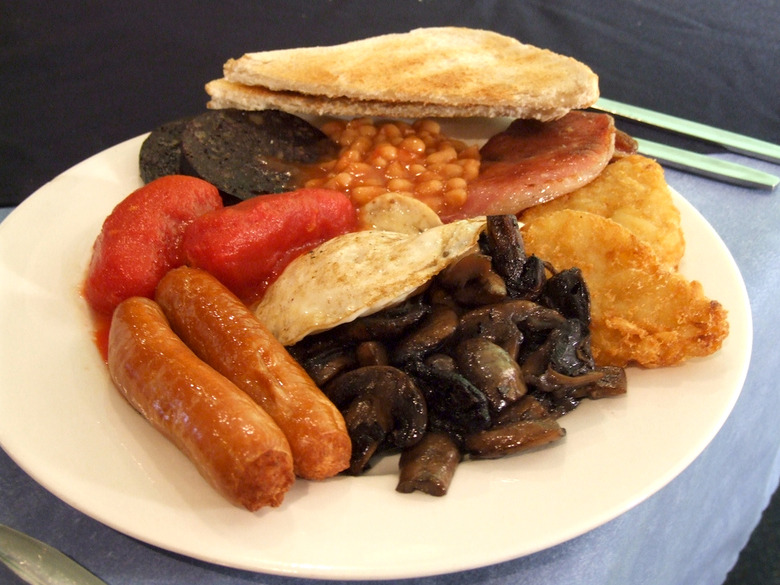 full english breakfast recipe
With the 2012 Summer Olympics in full swing and NBC Universal broadcasting more than 3,500 hours of the London Games, one will need to eat a hearty breaky if they are to rise and shine early enough to watch Team USA go for gold.
A traditional full English breakfast is a meal that's very easy and quick to prepare, cook and clean up; and it's ideal to make for breakfast or brunch while you're watching shuttlecocks get swatted across your television screen. This quintessential start to an Englishman's day – the breakfast, not the shuttlecocks – is a protein bomb, a proverbial "garbage plate" for the a.m.
The traditional English breakfast consists of black pudding, baked beans, sausage, tomato, mushrooms, back bacon, eggs and toast. Since this is a breakfast that can be made a thousand different ways, I change up the tomatoes by using cherry instead of small ones, and sweeten the baked beans. Eggs are up to you, but I recommend fried so the yolk can spew all over the plate!
Full English Breakfast Recipe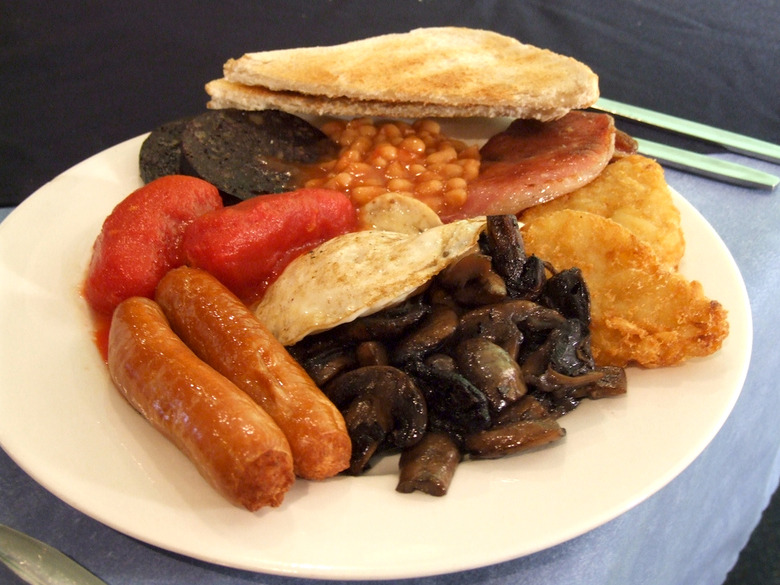 Ingredients
4 black puddings
16 good-quality sausages
1 pound bacon
2 pints cherry tomatoes
4 cans Heinz baked beans
8 slices granary or whole wheat bread
1 stick butter plus 5 tablespoons
1/4 cup maple syrup
8 eggs
16 button mushrooms
1/4 cup olive oil
Salt and pepper
Directions
Preheat oven to 350 degrees.
In a pot, simmer cherry tomatoes on low until their juices release, add salt and stir for 20 minutes.
On a baking sheet, bake bacon in oven at 350 degrees for 10-15 minutes, depending on your desired level of doneness. Let rest until ready to serve as bacon will continue to cook.
On a flattop, or in a large pan, cook sausages on medium heat, turning once or twice until brown, about 10 minutes.
In a second pot, simmer baked beans with 5 tablespoons of butter, maple syrup and brown sugar for extra sweetening, stir.
On same flattop, or large pan, cook black pudding on medium heat. Cook for 2-3 minutes on each side.
Break eggs onto flattop. Add butter, salt and pepper and cook until preferred doneness.
Add mushrooms to flattop or pan, sprinkle with salt and pepper and lightly drizzle with olive oil. Cook 1-2 minutes on one side, flip and cook for another 3-4. Do not move them around, as they'll wind up soggy.
Toast bread and serve with extra butter.