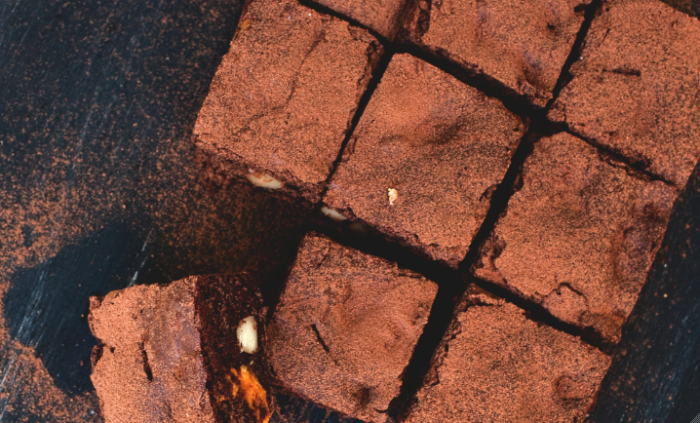 Malaysian-born MasterChef star Billy Law's cookbook Have You Eaten? is a masterful collection of rich fusion cuisine and classics alike. His insanely rich brownie recipe has everything you want in it (peanut butter, macadamia nuts) and nothing you don't.
It was the humble chocolate brownie that first sparked my passion for baking. If you have a sweet tooth like me and have always wanted to learn how to make sweet treats, then this recipe is a good kick-start for beginners. It is super simple and fast to make, and great to have on standby for when you have unexpected guests or are simply craving something sweet. I love the contrast of the crunchy macadamias against the fudgy cake, and the peanut butter is a naughty touch for that ultimate indulgence.
Ingredients
1/3

cup

all-purpose flour

1/3

cup

unsweetened cocoa powder, plus extra for dusting

pinch of

salt

10 1/2

ounces

dark chocolate (65%), roughly chopped

5

ounces

unsalted butter, cut into cubes

1 1/3

cups

firmly packed light brown sugar

4

eggs

1/2

cup

sour cream

3 1/2

ounces

macadamia nuts

12

tablespoons

peanut butter
Directions
Preheat the oven to 350°F. Grease a 8 × 12 × 1 1/2 inch rectangular baking tin, then line the base and sides with baking paper. Sift the flour, cocoa and salt into a bowl and set aside.
Melt the chocolate and butter in a heatproof bowl over a saucepan of simmering water. Do not let the water touch the base of the bowl. Stir occasionally until the chocolate and butter have melted, then remove the pan from the heat and set aside to cool for 10 minutes.
Stir the brown sugar into the chocolate, then add the eggs, one at a time, stirring well after each addition. Add the flour mixture, stir to combine, then add the sour cream and macadamia nuts and stir to mix well.
Pour the mixture into the tin, spreading it with a palette knife to fill all the corners and to smooth the surface. Using a tablespoon, place 12 dollops of peanut butter evenly over the mixture, then wet your index finger with water and gently poke the peanut butter and bury it in the chocolate mixture. Use the palette knife to smooth out the surface again.
Bake the brownies for 30 minutes, or until just set. Remove and allow to cool completely. Dust with extra cocoa powder and slice into 2 inch squares.
Check out these chocolate recipes on Food Republic: