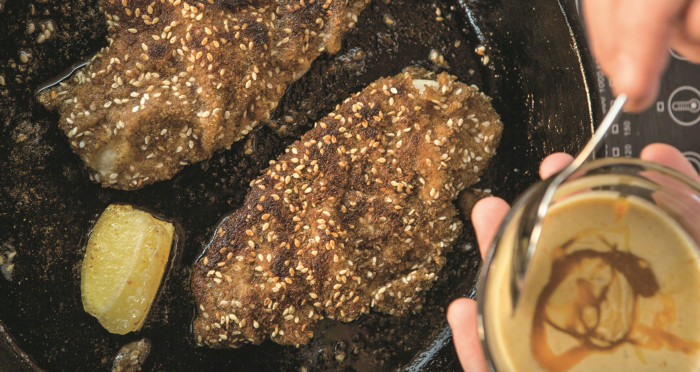 Look no further than James Beard Award winner Michael Solomonov for a modern take on classic Israeli food. His new cookbook, Zahav, is packed with your new favorite ways to consume all things Middle Eastern/Mediterranean/North African. Even schnitzel. 
Schnitzel gets a bad rap. If you've ever been on a bus tour of Israel or spent time in an Israeli prison, you know what I am talking about. Limp, greasy, and warmed over, it's a deep-fried staple of the cafeteria steam table with a pool of ketchup. This is a shame, because great chicken schnitzel is a thing of beauty. It was one of my dad's specialties when I was growing up, so I've always had a soft spot for it. Sandwiched between two pieces of white bread, schnitzel takes me to my happy place, where all the food is beige and crunchy.
Schnitzel was first brought to Israel by European immigrants in the late 19th century. Most people didn't have ovens in their homes, so this pan-fried dish quickly became a staple. Since the country was so poor, a piece of chicken that could be pounded out to look like twice as much meat was a valuable thing. The secret to great schnitzel is patience. Cooked slowly in plenty of fat in a wide enough skillet, the crust will be browned and crispy by the time the chicken is cooked through. The other key is well-seasoned bread crumbs, perked up with a handful of za'atar, the ubiquitous Israeli spice blend.
Chicken and tehina have a beautiful affinity for each other. The tehina adds richness to the lean meat without overpowering its delicate flavor. Here, I bump it up with passion fruit puree and the Iraqi mango pickle called amba that's a staple at falafel stands all over Israel. Passion fruit is just sweet and sour enough to keep it from being cloying, and the amba is super-savory and funky, if a little too pungent on its own. Together, they become an incredible accompaniment to crispy schnitzel, making it completely reminiscent of Israeli street food, perhaps the highest compliment I could give. This recipe will not, apparently, guarantee you a win on Iron Chef America, so you may want to keep that ketchup handy. (Not that I'm bitter.)
Ingredients
Amba tehina
1

cup

basic Tehina sauce

2

tablespoons

passion fruit purée

2

heaping tablespoons

amba

kosher salt
Schnitzel
2-3

slices

stale challah, roughly chopped

1/4

cup

sesame seeds

2

tablespoons

za'atar

4

boneless, skinless chicken breasts

kosher salt

3/4

cup

all-purpose flour

2

large eggs, beaten

canola oil, for frying
Directions
For the amba tehina
Whisk the tehina sauce, passion fruit puree, and amba in a mixing bowl until combined. If the sauce seems too thick, thin with a few tablespoons of ice water. Taste and add salt.
For the schnitzel
Pulse the challah in a food processor until it turns to crumbs. Mix 1 cup challah crumbs with the sesame seeds and za'atar in a shallow bowl and set aside.

Keeping the blade of a sharp knife parallel to the cutting board, slice each chicken breast in half to create 2 thin cutlets. Lightly pound out and salt.

Place the flour and eggs in separate shallow bowls. Dredge each cutlet first in the flour, shaking off any excess, then the eggs, and finally in the challah–za'atar mixture.

Heat about ¼ inch oil in a large cast iron skillet over medium heat until shimmering but not smoking. Add the breaded cutlets and cook until golden brown on each side, about 2 minutes per side. Work in batches if needed to avoid crowding the skillet.

Serve the hot schnitzel with the amba tehina.