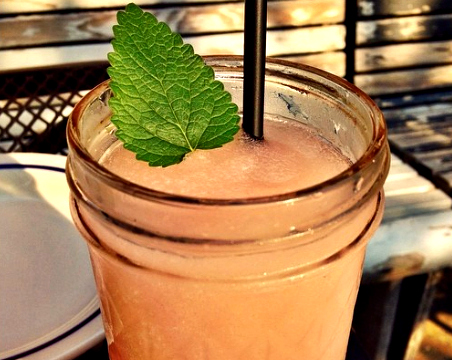 The Frozémonade was created to be the antidote to hot, sticky, summer nights in Brooklyn. But really, this drink is inspired by the fun of playing around with the blender. The best drinks often come together like this in one moment, with the concept, ingredients and name falling into place. Then you give it to someone to try and they light up.
Rosé has been experiencing a huge surge in popularity, but sometimes you just want something very cold. Frozen drinks need a little bit of sugar to carry the flavors, but the drink doesn't read as sweet thanks to the balance. It pairs well with anything you'd drink with rosé, like lighter seafood dishes or salads, but the natural choice is the Connecticut-style lobster roll at Extra Fancy (or any of these superb recipes.
Ingredients
4

ounces

dry rose

1/2

ounce

fresh lemon juice

3/4

ounce

simple syrup
Directions
Add the ingredients to a 12 ounce Ball jar.
Fill the jar with crushed or pellet ice, attach the blender blade to the jar and blend until smooth.
Garnish with a leaf of lemon balm.
Find more frozen cocktails on Food Republic: