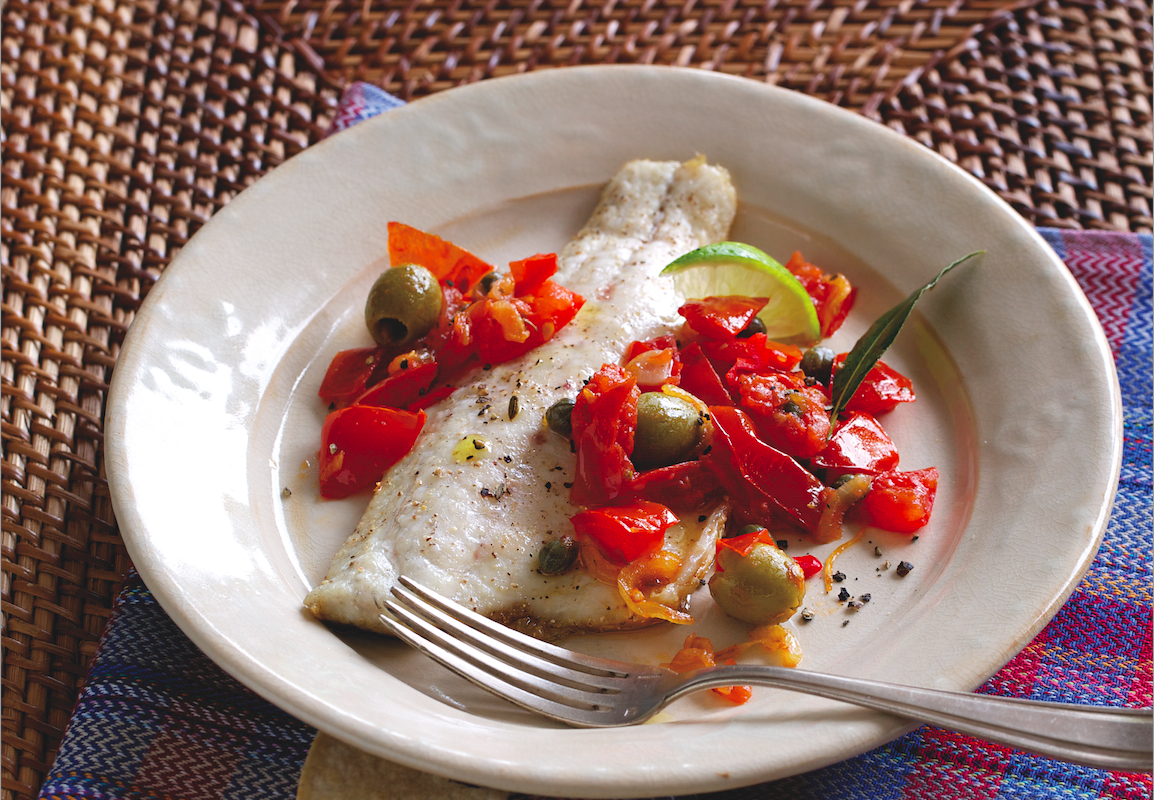 Chef and restaurateur Scott Myers' love of Mexican food began on his first visit to the country at age seven, spending hours in the kitchen with his grandmother and aunts, helping prepare recipes that had been passed down through generations — salsas, moles, enchiladas, tamales, sopas, chiles rellenos, chilaquiles and more. His recent book, Authentic Mexican Cooking, is a tribute to the cuisine that inspires him. 
Veracruzana is a specific way to prepare fish with tomatoes, olives and capers, similar to what we know of the Spanish kitchen. The Veracruz city lies on the Caribbean Coast of Mexico in the eastern part of the country. Jalapeño chili peppers were also originally cultivated there.
Ingredients
2 1/4

pounds

sea bass fillet (or white fish, as desired)

1

lime

1

onion

2

small

cloves, garlic

1/3

cup

extra virgin olive oil

1 3/4

pounds

ripe tomatoes

2

small

bay leaves

1/2

teaspoon

oregano

10

green olives

2

tablespoons

capers

2

jalapeño chili peppers

sea salt
Directions
Prick the fish fillet consistently with a fork.
Squeeze out the lime, lay the fish in an oven-safe dish and sprinkle the lime juice over the fish.
Let the fish marinate for two hours while chilled.
In the meantime, peel the onion and the garlic cloves and cut them into paper-thin slices.
Heat up a pan with two tablespoons of olive oil.
Sauté the onions and garlic in the olive oil on low heat until they are softened.
Remove the stalks from the tomatoes, wash them, chop them and add them to the pan.
Stir in the bay leaves and the oregano.
Halve the olives and stir them together with the capers.
Wearing kitchen gloves, halve the jalapeño chili peppers lengthwise, remove the seeds, finely chop them and stir these into the sauce as well.
Salt the sauce and let it simmer for ten minutes.
Preheat the oven to 325°F.
Spoon the sauce over the fish, then drizzle the rest of the olive oil over the fish.
Loosely cover the fish with aluminum foil and cook it for twenty minutes.
Douse the fish now and then with the sauce.
Find more Mexican recipes on Food Republic: