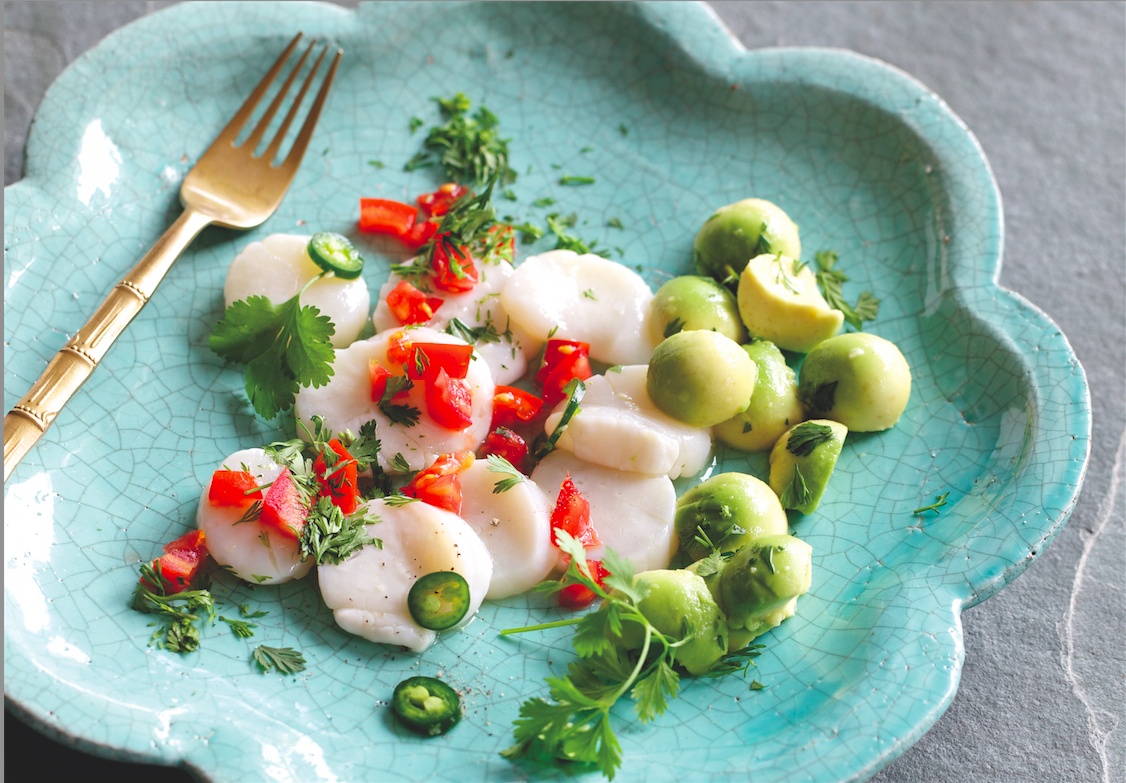 Chef and restaurateur Scott Myers' love of Mexican food began on his first visit to the country at age seven, spending hours in the kitchen with his grandmother and aunts, helping prepare recipes that had been passed down through generations — salsas, moles, enchiladas, tamales, sopas, chiles rellenos, chilaquiles and more. His recent book, Authentic Mexican Cooking, is a tribute to the cuisine that inspires him. Find the freshest, best quality scallops you can, and don't cook them a bit. That's what ceviche is for.
Ingredients
1

pound

kitchen-ready scallops

4

limes

3

avocados, ripe and aromatic

1

aromatic tomato

1

handful of

cilantro leaves

1

Serrano chili pepper

1/3

cup

extra virgin olive oil

sea salt

tortilla chips, to serve
Directions
If needed, remove the scallops from the coral, wash them, then carefully dry them with a paper towel.
Halve them lengthwise and lay them in a flat mold.
Squeeze out the limes and pour the juice over the scallops. Let them marinate for fifteen minutes at room temperature.
Halve the avocados and remove the pit.
With a melon ball cutter, cut out the pulp into ball form.
Remove the stalks from the tomato, wash it and dice it.
Wash the cilantro, shake it dry and finely chop the leaves.
Wearing kitchen gloves, finely chop the Serrano chili pepper.
Drain the lime stock.
Mix the scallops with the rest of the ingredients except for the avocado balls and arrange the scallop mix onto a plate.
Spread the avocado balls over the scallops and serve immediately.
Author's Tip: When marinating, use a clear glass container because then you can see if all of the ingredients are sitting in the lime juice.
Find more ceviche recipes on Food Republic: