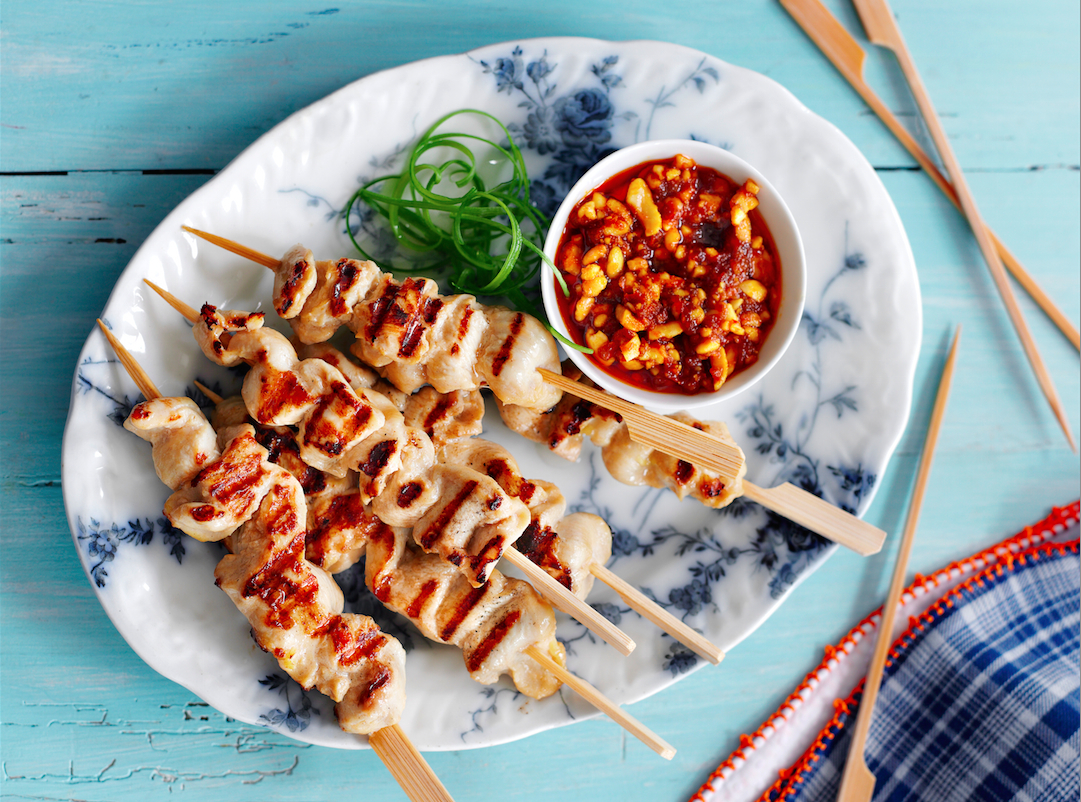 You may have other culinary goals if you're in Manchester, England, but put Sweet Mandarin on your "to-visit" list in case you feel like deviating from regional fare. Twin sisters and Sweet Mandarin owners Helen and Lisa Tse put modern Chinese food on the map with their popular restaurant, and recently released their first cookbook. First up, hawker-style chicken skewers you don't have to leave your kitchen to enjoy.
Hong Kong was, and still is, famous for its amazing range of culinary offerings. As Chinese immigrants poured into Hong Kong to escape the Japanese invasion of China during the 1920s, the streets boasted increasing numbers of restaurants and street hawker stalls known as dai pai dongs. Although the dai pai dongs were no more than tiny metal carts, they served up a wide array of street foods — including these chicken skewers, as well as other snacks such as pungent preserved beancurd, fishballs, and Shanghai dumplings called potstickers because they stuck to the pot.
One of the reasons the dai pai dongs were so successful was because the vendors had the foresight to put most of their items on a stick, making eating on the go possible. The rise in foodsellers reduced prices and made food available to the masses. These foodsellers could be found throughout the city and turned snacking into a Chinese institution. If you had the appetite, you could eat from morning until midnight. Chicken skewers with peanut satay dip became a firm favorite with the nation.
Ingredients
7

ounces

boneless chicken breasts, cut into 4-inch strips
Marinade
1

tablespoon

sesame oil

1

tablespoon

Shaoxing rice wine or sherry

1

tablespoon

light soy sauce

1/2

teaspoon

salt

1/2

teaspoon

sugar

1/2

teaspoon

garlic, minced
Satay Dip
1

cup

peanuts, raw and unsalted

1

tablespoon

brown sugar

1/2

teaspoon

salt

1/2

teaspoon

ground turmeric

1/2

teaspoon

chile paste

2

tablespoons

water

1

tablespoon

vegetable oil
Directions
Soak 12 wooden skewers, approximately 7 inches in length, in warm water for 30 minutes.
Cut the chicken into 4-inch long strips.
Meanwhile, mix together the ingredients for the marinade in a bowl.
Put in the chicken strips, coat them well on all sides and set aside to marinate for at least 20 minutes.
Prepare the satay dip by crushing the peanuts using a mortar and pestle (or put them in a plastic bag and crush with a rolling pin). You want to retain some texture in the sauce so it is not advisable to blend the peanuts in a food processor.
Tip the crushed peanuts into a dry saucepan and toast them over low heat until they start to brown, approximately 3 minutes.
Stir in the sugar, salt, turmeric, chile paste, water and oil and cook for 5 minutes. Set aside.
Preheat a grill pan.
Thread the marinated chicken strips onto the wooden skewers and cook for approximately 3 minutes on each side or until golden brown and cooked through. Serve with the satay sauce.
Find more skewers on Food Republic: