From Austin, With Love: How To Make Migas Tacos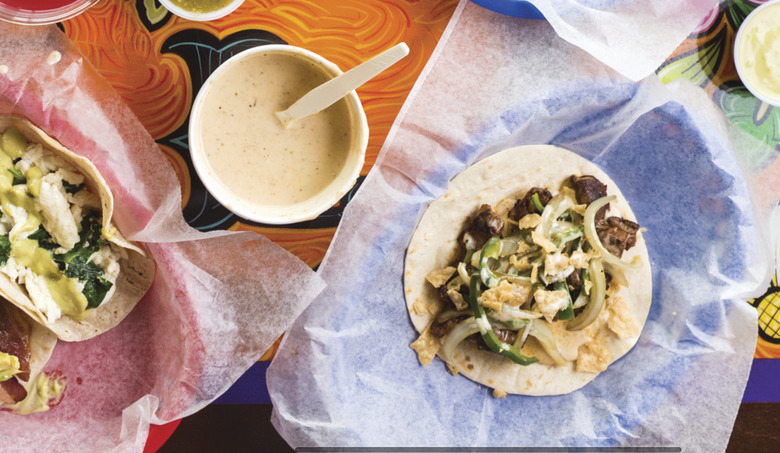 We may receive a commission on purchases made from links.
Longtime FR contributor Adeena Sussman has a new cookbook out, and when she launches a book, we go nuts. Cook your way through America's Best Breakfasts and make sure you stop in Austin for the best egg tacos in the country. 
Why is Austin such a breakfast taco town? "You have all kinds of people needing to eat at all different times," Roberto Espinosa told us at Tacodeli, a chain he started in 1999. Originally a schoolteacher, Mexico-born Espinosa opened the first branch and has watched his business grow every year. Tacos filled with bacon and potatoes are popular, but we loved this one, which is twice as local, seeing as it's inspired by another Tex-Mex dish: migas, a scramble of eggs, tortilla chips or strips, and toppings. We re-created the creamy Dona sauce — a top-secret recipe concocted years ago by a Tacodeli employee — as best we could.
From Austin, With Love: How To Make Migas Tacos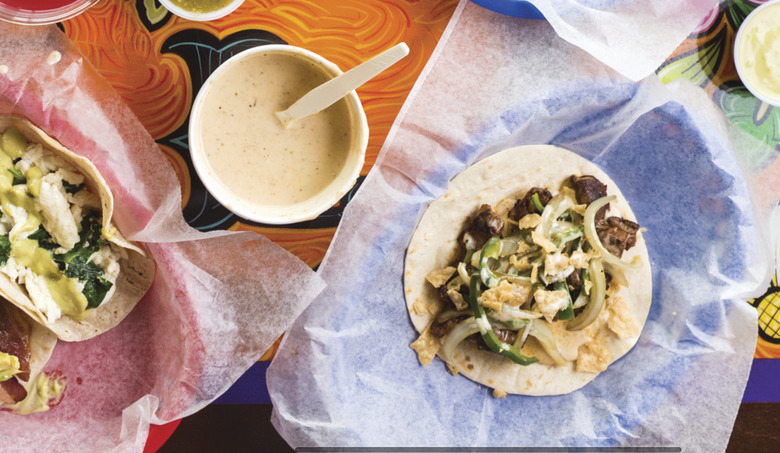 Ingredients
1 pound sirloin flap
1 tablespoon olive oil
1 tablespoon paprika
1 1/2 teaspoons kosher salt
1 lime wedge (optional)
8 large eggs
1/4 teaspoon kosher salt
1 tablespoon unsalted butter
1/2 cup chopped tomato
1/4 cup chopped onion
2 small jalapeño peppers
1 cup shredded Monterey Jack cheese
1 cup tortilla chips
8 small flour tortillas
1 tablespoon canola oil
2 medium ripe tomatoes
3 jalapeño peppers
1/2 medium onion
3 garlic cloves
1/2 cup fresh cilantro leaves
1 1/2 teaspoons kosher salt
1/4 cup vegetable oil
1/2 pound jalapeño peppers
4 garlic cloves
1/2 teaspoon kosher salt
Directions
:::Dona sauce:::
Heat 1 tablespoon of the oil in a large skillet over medium-high heat. Add the jalapeños and garlic and cook until the peppers are blistered and the garlic is charred, 3 minutes per side. Transfer to a plate to cool. Place in a blender with the remaining oil and the salt and puree until smooth. Sauce will keep, refrigerated, in an airtight container for up to 1 week.
:::salsa roja:::
Heat a large cast-iron skillet over medium-high heat to the point of smoking (or heat an outdoor grill over high heat or preheat the broiler). Add the oil and swirl it around evenly in the skillet (or, if broiling, on a small baking sheet). Add the tomatoes, jalapeños, onion, and garlic and char the vegetables on all sides (the darker the vegetables get, the more flavor), 15 minutes total. Cool slightly.
Place the vegetables in a blender, removing and discarding the seeds from the chilies if you prefer a less spicy salsa. Add the cilantro, 1⁄2 cup water, and salt and blend thoroughly; season with more salt if necessary.
If the salsa is too thick, add water by the tablespoonful to reach desired consistency. If you prefer a chunkier salsa, pulse the salsa in a blender or food processor until you achieve the desired consistency. Salsa can be stored in the refrigerator in an airtight container for 3 days.
:::tacos:::
Cook the steak: Preheat a cast-iron skillet or a griddle over medium-high heat to the point of smoking. Rub the sirloin with the olive oil, then season both sides of the meat with the paprika and salt. Place the sirloin in the skillet and cook until dark and seared, 3 to 4 minutes. Flip and cook until the inside is medium-rare and the meat reads 130°F on an instant-read thermometer, 3 more minutes. Transfer the sirloin to a cutting board and let the meat rest for 5 minutes. Cut into 3⁄4-inch cubes and sprinkle with extra salt or a squeeze of lime, if desired.
Make the migas: In a medium bowl, whisk the eggs with the salt until foamy. Heat a large skillet over medium-high heat, melt the butter, then add the eggs and cook, stirring, until scrambled and just set, 30 to 45 seconds. Add the tomato, onion, jalapeños, cheese, and tortilla chips. Cook until the eggs are done but still moist, 1 to 2 more minutes.
To serve, briefly warm the tortillas in a clean skillet. Place 2 tortillas on each plate, divide the eggs among the 4 plates, top with the steak cubes, and serve with the salsa roja and Dona sauce.