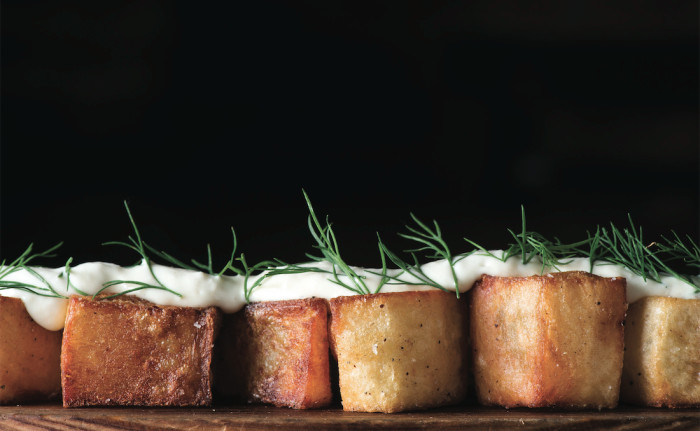 Award-winning chefs Greg Denton and Gabrielle Quiñónez Denton are the chef-owners of the much-beloved Ox Restaurant in Portland, Oregon. With a focus on the live-fire and asador cooking traditions of Central and South America, their new cookbook, Around the Fire, is a must-have for grillmasters of any level or walk of life. 

It would just be wrong to serve steak at a restaurant without a potato and some horseradish to go with it. Of all the delicious potato preparations out there, we wanted something that was crispy on the outside and creamy and pillowy on the inside, reminiscent of a steak fry.

Roasting the potatoes before frying them achieves this crispy-soft harmony beautifully. You can do the roasting a day in advance and make the aïoli 2 or 3 days in advance. Come serving time, the potatoes take just 4 to 5 minutes to fry.
Ingredients
1 3/4

pounds

russet potatoes, peeled

1/4

cup

extra-virgin olive oil

1

tablespoon

kosher salt, plus more to taste

1

teaspoon

freshly ground black pepper, plus more to taste

8

cups

neutral-flavored vegetable oil, for deep-frying

1

cup

Horseradish Aïoli

3

tablespoons

coarsely chopped fresh dill, for garnishing
Horseradish aioli (makes about 1 1/3 cups)
1

cup

mayonnaise, homemade or store-bought

1/3

cup

firmly packed, finely grated fresh horseradish, or more to taste

2

tablespoons

extra-virgin olive oil

1

tablespoon

unseasoned rice vinegar

1/8

teaspoon

finely grated or minced garlic

Kosher salt and freshly ground black pepper
Directions
For the aïoli
In a medium bowl, whisk together the mayonnaise, horseradish, oil, vinegar, and garlic; season with salt and pepper and whisk again to combine. Taste and adjust the seasoning, if necessary, adding more freshly grated horseradish, if you prefer it spicier. Refrigerate for up to 3 days.
For the potatoes
Preheat the oven to 400°F.

Cut the potatoes into 1 1⁄4-inch cubes and transfer to a large baking sheet. Toss with the oil, salt, and pepper, then spread the potatoes out as much as possible (divide between two baking sheets, if needed, to avoid stacking the potatoes). Bake for about 20 minutes, then gently stir to promote even cooking. Continue to bake until the potatoes are just cooked through, 10 to 20 minutes longer, then remove. The potatoes can be baked 1 day ahead of time and refrigerated until ready to fry.

Lower or preheat the oven to 225°F. Line a baking sheet with paper towels and set next to the stove. In a large pot, heat the vegetable oil over medium heat until it reaches 375°F on a deep-fry thermometer.

Using a spider or wide wire skimmer, carefully lower about one-third to one-half of the potatoes into the oil; cook until golden brown and crispy, 4 to 5 minutes.

Remove and transfer to the paper towel–lined baking sheet. Once some of the oil has been absorbed, remove the paper towels and transfer the baking sheet to the oven to keep the potatoes warm. Repeat with the remaining potatoes.

Once all of the potatoes are fried, place them in a large bowl and season with salt and pepper to taste. Place in a serving dish or divide among four plates, then spoon the horseradish aioli over the top. Garnish with dill.