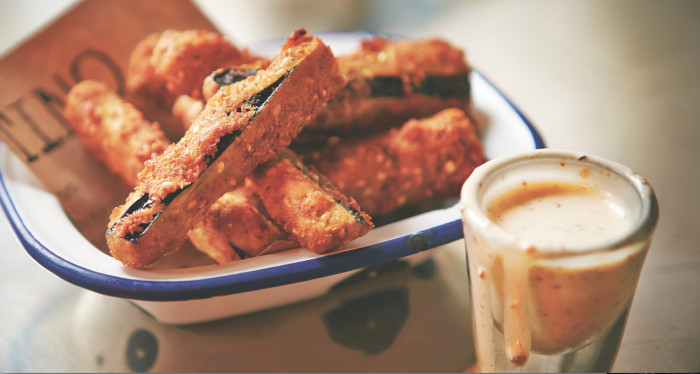 British chef Russell Norman has a longstanding affair with the cuisine of New York City — just pop into his Soho (London) diner and see for yourself, or pick up a copy of his new book, Spuntino: Comfort Food, named for the restaurant where it all happens. 

This eggplant fries dish has been on the menu at Spuntino since day one and is a much-requested recipe. For me, it's a dish about contrasts. The hot eggplant fries versus the cool yogurt. The crunchy sesame coating versus the soft center. The smoky flavor of the eggplant versus the aniseed tang of the fennel. You can have fun with the presentation of this dish, too, by using a shot glass for the fennel yogurt and then stacking the fries around or to the side.
Ingredients
2

teaspoons

coriander seeds

2

teaspoons

fennel seeds

2

eggplants

Scant 1/2

cup

plain flour

1

teaspoon

fine salt

1/2

teaspoon

black pepper

3-4

medium eggs

Heaping 1/2

cup

panko bread crumbs

2

teaspoons

sesame seeds

4 1/4

cups

vegetable oil, for deep frying
Fennel yogurt
1

teaspoon

coriander seeds

1

teaspoon

fennel seeds

1/2

cup

mayonnaise

Heaping 3/4

cup

plain Greek-style yogurt

1

teaspoon

lemon juice

Large pinch of

flaky sea salt

Pinch of

black pepper
Directions
For the fries
First of all, toast the coriander and fennel seeds for both the aubergine and the yogurt. Put them all — 3 teaspoons of each — in a nonstick frying pan and dry fry over a medium heat for a few minutes, until you can smell their spiciness. Do keep an eye on them, as they can easily burn. Remove from the heat, then grind in a pestle and mortar.

Now make the fennel yogurt. Take 2 teaspoons of the ground seeds and combine with the rest of the fennel yogurt ingredients. Put it in the fridge.

Cut the eggplant into thick 5-inch-long fries.

Now take three bowls. Mix the flour, salt and pepper in the first. In the second bowl, beat the eggs. Mix together the bread crumbs, the remaining ground coriander and fennel seeds and the sesame seeds in the third bowl. Dip the eggplant fries in the flour, coating well. Shake off any excess and then place in the egg wash, shaking off any drips, and then coat well with the bread crumbs. Set aside at room temperature, not in the fridge, if not cooking straightaway.

Heat the vegetable oil in a medium pan to 375ºF (or until a cube of bread dropped in the oil turns golden brown in less than a minute). Now fry the coated eggplant fries, in batches, for 2-3 minutes or until golden brown. Lift out, drain on kitchen paper and sprinkle with a little salt. Serve hot with the chilled fennel yogurt.