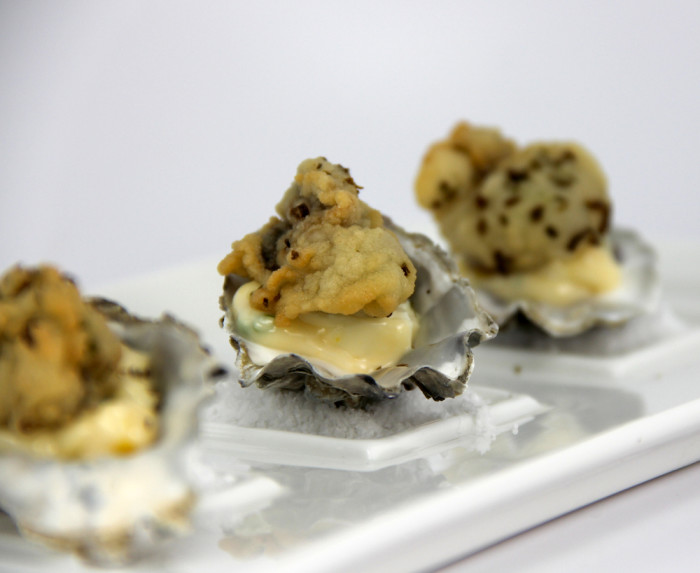 There are many ways to enjoy an oyster, perhaps the greatest, being straight up in its own liquor — nature's sauce. If just one kind of liquor won't suffice for your particular oyster needs (we know the feeling), pour yourself some vodka and enjoy these bivalves deep-fried and dipped in homemade tartar — humankind's sauce.
Wellfleet, MA, located on the hook of Cape Cod, is a town rich in history, summer vacationers and, yes, tasty mollusks like fat-bellied clams and plump, briny oysters. Get your hands on a few of these, and experience the true meaning of simple pleasures.
Ingredients
8

oysters

1/2

cup

buttermilk

3/4

cup

Wondra flour

1

teaspoon

chives, chopped

pinch

celery salt

1/4

cup

mayonnaise

2

teaspoons

capers, chopped

4

cornichons, chopped

1

teaspoon

fresh tarragon, chopped

1

teaspoon

parsley, chopped

1

hard boiled egg, chopped

1

tablespoon

Dijon mustard
Directions
For the tartar sauce:
​In a bowl, combine the mayo, mustard, tarragon, parsley, egg, capers and cornichon and set aside.
For the fried oysters:
Shuck the oysters into a bowl, drain the liquor (this can be used for a chowder, sauce, bloody mary, etc)
Cover the oysters with buttermilk and marinate for 1-3 hours
Clean the nicer 8 shells to serve the oysters in later
Combine the Wondra and the chives
Remove the oysters from the buttermilk and toss in the Wondra/chive mixture
Fry the oysters in 350 degree canola oil for 3-4 minutes until light brown and crispy
To serve:
Spoon a quarter-sized amount of the tartar into each cleaned oyster shell.
Place a fried oyster into each shell.
Finish with a little celery salt on each.