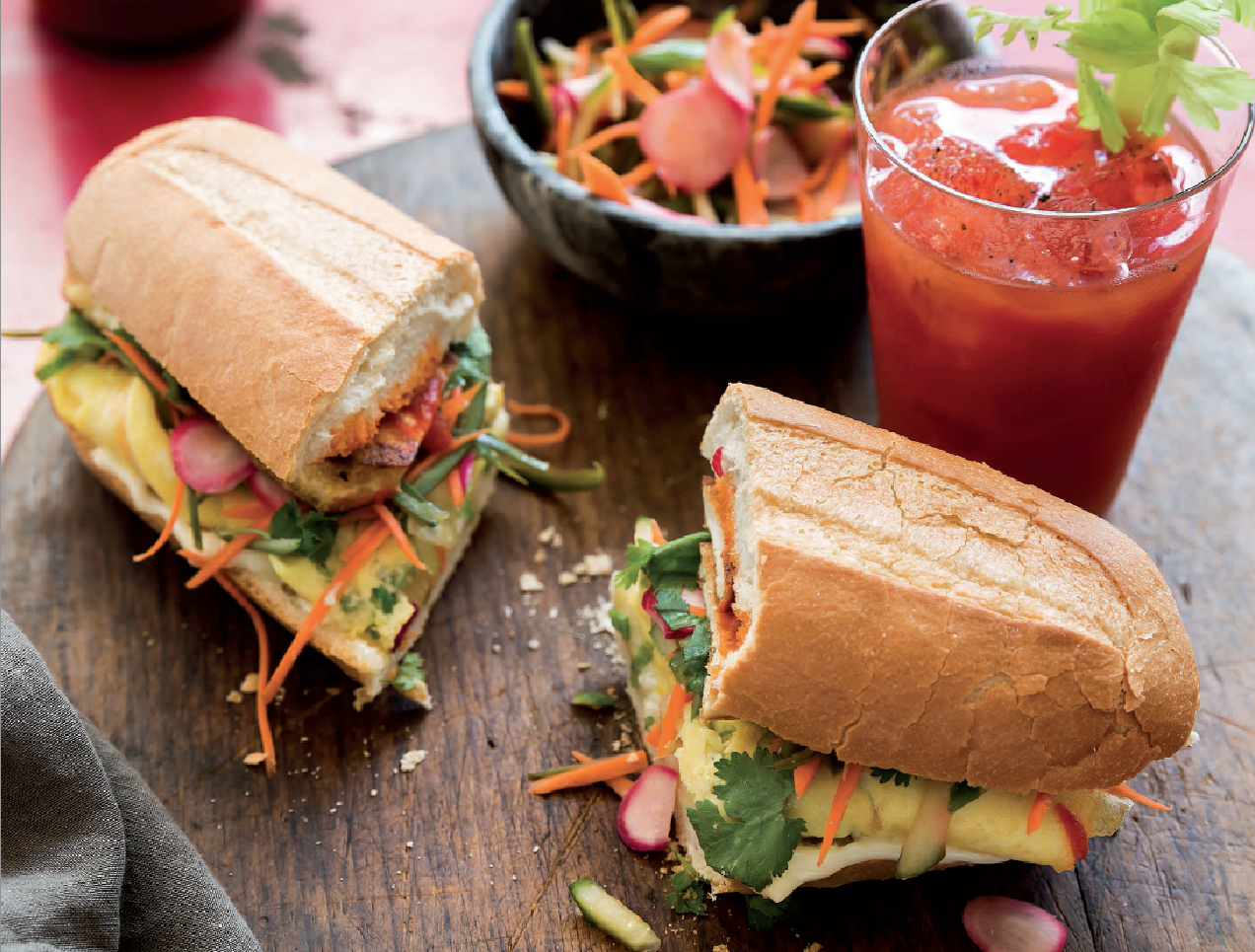 Few things are as good as a meal cooked by either of the Sussmans, Max or Eli. Long story short, go to Brooklyn, eat at Mile End and tell 'em we sent you. We liked their first cookbook, This Is A Cookbook, a whole bunch. But their second book, released this past fall, the aptly named Best Cookbook Ever, kind of is the best cookbook ever. We want to make everything in it, but especially this brunch sandwich.
There is a bánh mì shop a block away from our house that is damn good and mighty cheap. We've spent many a ragged hungover morning zombie walking there with Murphy, Max's dog, to pick up food. One time we wondered why there wasn't a breakfast bánh mì. Crispy bread, hot eggs, spicy sauce—sounds perfect, right? Our shop didn't have it, so we made it ourselves. For the best bánh mì, you want to use a fresh Italian roll, fluffy inside, white bread. Don't make this on whole wheat and e-mail us saying you didn't love it. We will publicly shame you.
Ingredients
1/2

small carrot, peeled

1/2

Persian or 1/4 English cucumber, peeled and seeded

1/2

jalapeño or serrano pepper (the serrano will give more heat)

2

small radishes, thinly sliced

1

tablespoon

rice vinegar

1/2

teaspoon

brown sugar

grated zest of

1 lemon

kosher salt

2

slices

firm tofu, each about 1/2-inch thick, 2 inches wide and as long as the tofu block

2

tablespoons

vegetable oil

1

(10-inch)

baguette (not a crusty French baguette) or Italian roll

1

tablespoon

extra virgin olive oil

1

tablespoon

unsalted butter

2

large eggs, beaten

1

tablespoon

minced fresh cilantro stems

2

green onions, white and tender green parts only, trimmed and thinly sliced

Kewpie mayo, for spreading

1/4

cup

packed fresh cilantro leaves

Sriracha, to taste
Directions
Preheat the oven to 350°F.
Cut the carrot, cucumber and hot pepper into julienne about 1/8-inch wide and 3 inches long (a mandoline is ideal for this). Put the julienned vegetables in a bowl and add the radishes, vinegar, brown sugar, lemon zest and 1/2 teaspoon salt. Toss to mix well. Let sit at room temperature for at least 20 minutes.
Dry the tofu well with paper towels and season lightly on both sides with salt. In a frying pan, heat the vegetable oil over medium heat. When the oil is hot, add the tofu slices and fry, turning once, until golden brown and crispy, about 3 minutes per side. Transfer to paper towels to drain.
Toast the baguette in the oven for 5 minutes.
While the baguette is toasting, heat the olive oil in a small nonstick frying pan over medium heat. When the oil is hot, add the butter and swirl the pan to blend the fats. Add the eggs and a pinch of salt, reduce the heat to low and let cook undisturbed. When you see curds starting to form, using a silicone spatula, stir the eggs quickly. Repeat until about two-thirds of the eggs are cooked. At this point, spread the eggs out evenly and sprinkle the cilantro stems and green onions over the top. Let cool until the eggs are just barely set. Don't worry about making the omelet perfect, since it's going to be folded into the sandwich.
Split the baguette horizontally but stop just short of cutting all the way through, to leave a joint on one side. Spread mayo on the cut side of the baguette bottom. Using the silicone spatula, carefully roll the omelet onto itself and then out of the pan onto the baguette. Cover with the cilantro leaves, pickled vegetables, tofu, Sriracha and more mayo, if desired. Serve right away.
Try out these brunch recipes on Food Republic: