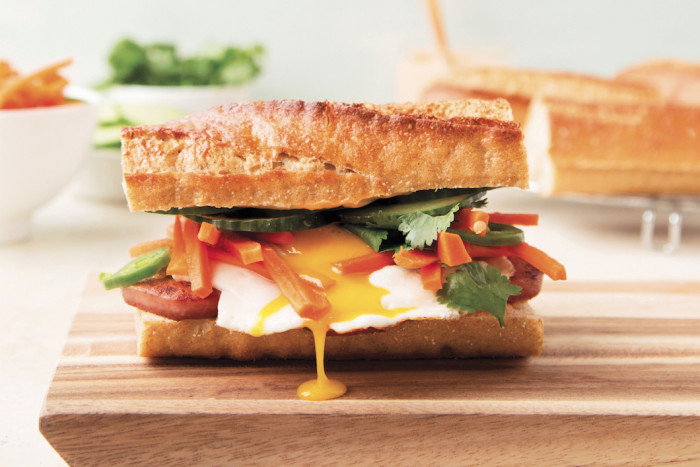 Award-winning blogger Joy Wilson, better known as Joy the Baker, has a new collection of recipes out just itching to hit your brunch table. Liven up the best meal of the week with her innovative and classic approaches to hearty morning fare, like a fried SPAM and egg banh mi sandwich that pays homage to New Orleans' diverse culinary scene. 
Sure, New Orleans is famous for its beignets and Sazeracs; less well known is that it has some of the very best (and cheapest) báhn mì sandwiches, thanks to its booming Vietnamese population. I use SPAM in this sandwich, which isn't typical of my kitchen, but totally appropriate and delicious in this sandwich, and especially fantastic when paired with a fried egg. Piles of pickled vegetables, spicy jalapeño, and cilantro work to make this sandwich super fresh and incredibly delicious.
Ingredients
Pickled Carrots and Jalapeño
1/2

cup

white vinegar

1/2

cup

water

2

tablespoons

sugar

1

teaspoon

sea salt

1

cup

julienned carrots

1

jalapeno, thinly sliced
Sauce
1/2

cup

mayonnaise

1

heaping tablespoon

sriracha or other hot sauce

dash

worcestershire sauce

freshly cracked black pepper
Sandwiches
2 to 3

tablespoons

canola oil

1

can

classic SPAM, cold, drained and cut into 8 slices

1

fresh baguette, sliced into four 5-inch pieces and halved

4

large fried eggs

8

sprigs

fresh cilantro

1/2

English cucumber, cut into 16 thin spears
Directions
For the pickles
In a small saucepan set over medium heat, combine the vinegar, water, sugar, and salt. Heat, stirring, for about 5 minutes, until the mixture is just steaming and the sugar is dissolved. Place the carrots and jalapeños in a small bowl and pour the warm vinegar mixture over the vegetables. Let cool to room temperature.
For the sauce
In a small bowl, combine the mayonnaise, Sriracha, Worcestershire sauce, and pepper.
For the sandwiches
In a medium skillet set over medium heat, heat 2 tablespoons of oil. Add the SPAM and cook for about 2 minutes per side, until light golden brown on both sides. Transfer to a paper towel-lined plate and let cool slightly.

Spread half of each baguette with the spicy mayonnaise and top with 2 slices of SPAM. Top with a fried egg. Drain the pickled carrots and jalapeños and pile on top of the fried eggs, followed by two sprigs of cilantro and four cucumber spears per sandwich.