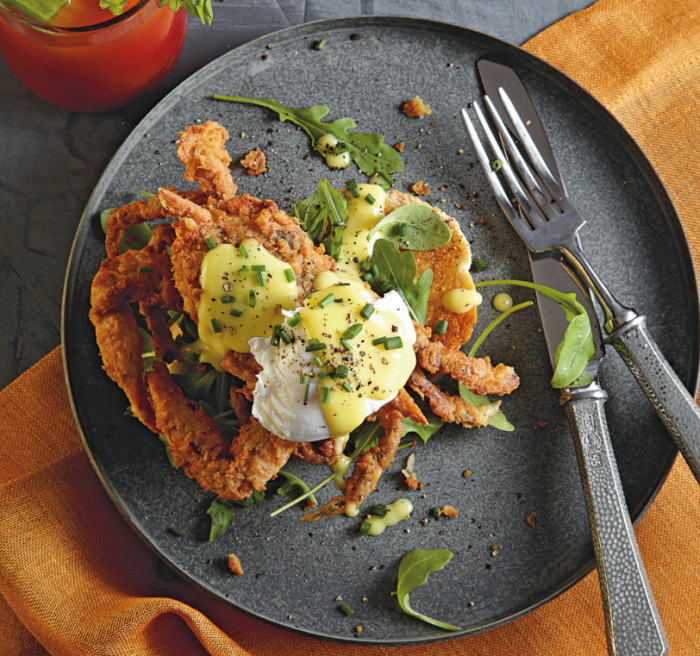 Normally we'd never endorse Hollandaise-in-a-packet, but you're finding soft-shell crabs for brunch, setting up a dredge station, frying and draining the things and poaching eggs. If we asked you to make real Hollandaise (read: we're asking you to make real Hollandaise) it might be a little much for a Saturday morning. The packet hack subbing milk for butter also cuts down on fat, which is nice because soft-shell crabs shouldn't be eaten any other way than fried.
Reprinted with permission from Southern Living: The Way To Fry
Ingredients
vegetable oil

1

(12-ounce) can

evaporated milk

7

large eggs, divided

6

soft-shell crabs

1 1/2

teaspoons

seasoned salt

1 1/2

cups

self-rising flour

6

(3/4-inch-thick)

French bread loaf slices

2

tablespoons

butter, melted

1

(0.9-ounce) envelope

hollandaise sauce mix

1

cup

milk

1

tablespoon

fresh lemon juice

1/2

teaspoon

white vinegar

2

cups

loosely packed baby arugula

2

tablespoons

chopped fresh chives
Directions
Pour oil to depth of 3 inches into a Dutch oven; heat to 360° F. Whisk together evaporated milk, 1 egg and 1/4 cup water in a large bowl.
Rinse crabs, pat dry and sprinkle with seasoned salt. Dredge crabs in flour; dip in evaporated milk mixture, and dredge in flour again. Fry crabs, in 2 batches, in hot oil 2 minutes on each side or until golden brown. Drain on a wire rack over paper towels. Keep warm.
Preheat oven to 375° F. Brush 1 side of each bread slice with butter. Bake bread slices, buttered sides up, 5 minutes or until toasted.
Prepare hollandaise sauce mix according to package directions, omitting butter and using 1 cup milk and 1 tablespoon lemon juice.
Pour water to depth of 2 inches into a large saucepan. Bring to a boil; reduce heat and maintain at a light simmer. Add vinegar. Break remaining 6 eggs and slip into water, 1 at a time, as close as possible to surface. Simmer 3 to 5 minutes or to desired degree of doneness. Remove with a slotted spoon. Trim edges, if desired.
Top bread slices with arugula, fried crabs, poached eggs and hollandaise sauce. Sprinkle with chives and salt and pepper to taste.
Try out these eggs benedict recipes on Food Republic: