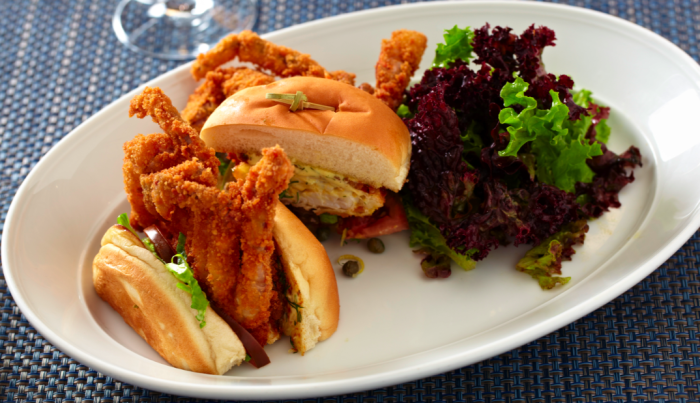 When it comes to seafood presented in the most appealing possible way — fresh, casual and delicious — it's hard to beat the Greeks. We love going to NYC's Molyvos for the moussaka and other comfort foods, but Chef Jim Botsacos outdoes himself here: this fried soft-shell crab sandwich in the style of a Louisiana po boy with all the classic Greek seasonings is out of this world. Sumac, a tangy Middle Eastern spice, turns the pickled onions a festive pink.
Make it at home, and you'll never be able to see soft shell crabs without buying them to recreate this sandwich again.
Ingredients
6

jumbo soft shell crabs, cleaned and washed

3

cups

Wondra flour

1

tablespoon

kosher salt (to season flour)

1/2

teaspoon

ground black pepper (to season flour)

2

cups

milk

4

eggs, beaten

4

cups

panko breadcrumbs

2

cups

shredded romaine lettuce

3

medium

tomatoes (Kumato if possible), sliced

2

tablespoons

extra virgin olive oil (to dress the romaine)

1 1/2

cups

extra virgin olive oil (for frying)

1 1/2

cups

vegetable, corn or canola oil (for frying)

1/4

cup

sumac marinated onions (recipe follows)

6

soft hamburger rolls

3

tablespoons

butter, softened

salt, pepper and dried Greek oregano to season the buns
Sumac marinated onions
2

teaspoons

sugar

1

tablespoon

sherry vinegar

pinch of

sumac

1 1/2

red onions, peeled and julienned
Greek style tartar sauce
2

cups

mayonnaise

1/4

cup

red onion, fine diced

1/4

cup

capers, finely chopped

1/4

cup

green cracked olives, pitted finely chopped

2

tablespoons

dill, chopped

1

tablespoon

grated lemon zest, chopped

1

tablespoon

lemon juice

Salt and pepper, to taste
Directions
For the sumac-marinated onions:
In a non-reactive bowl, combine the sugar, vinegar and sumac with a pinch of salt. Whisk together until sugar has dissolved.
Fold in the onions, sprinkle with a pinch of salt, toss to coat thoroughly. This will help to draw out the moisture from the onions.
Cover and let stand at room temperature for one hour, then refrigerate for two hours before using.
For the po boys:
Place 4 shallow bowls, side by side, on a work surface. Place the milk in the first dish. Combine the Wondra flour, salt and pepper in the second dish. Place the beaten eggs in the third dish. Place the panko in the fourth bowl.
Place the crabs into the milk, one at a time, dredge through the flour to lightly coat, then into the egg, place into the panko and coat generously.
Place on a clean cookie sheet that has been sprinkled with panko breadcrumbs. Continue until all the crabs have been breaded.
Brush the hamburger buns lightly with soft butter, sprinkle lightly with salt, pepper and oregano. Place the buns on a griddle over medium heat or a non-stick sauté pan until lightly golden. Place cut side down.
Once the buns are warmed and lightly golden, place one teaspoon of the tartar sauce on the bottom and one teaspoon on the top of the bun. Mix the romaine with 1/4 cup of sumac onions with the juices. Drizzle in 2 tablespoons of extra virgin olive oil, season with salt and pepper and distribute equally among 6 buns. Top the romaine with 3 evenly sliced tomatoes on each and set aside.
Combine the olive and vegetable oils in heavy skillet over high heat. Heat the oils to 325ºF (check temperature with an instant read thermometer). Working with 2 pieces at a time, add the coated crabs and fry for 6 to 8 minutes, or until golden brown and crisp on all sides.
Using a slotted spatula, transfer the crabs to a double layer of paper towel to drain and keep it warm in the oven. Fry the rest of the crabs.
Once crabs are done, place one crab over the tomatoes on each sandwich. Close the bun and skewer with bamboo toothpicks on either side of the bun, slice the sandwich down the center and serve.
More big fried sandwiches on Food Republic: