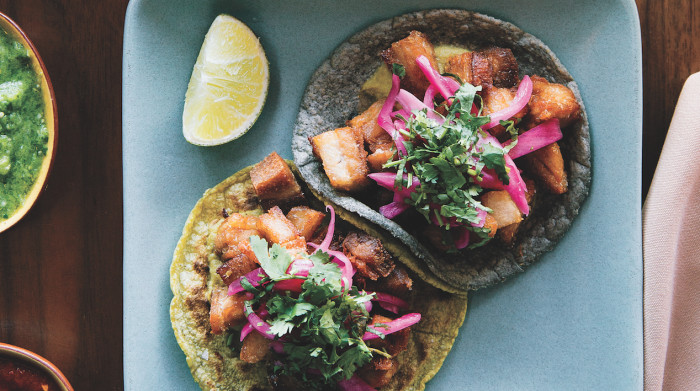 Chef, culinary instructor, cooking show host and James Beard Award–winning cookbook author Joanne Weir has a new collection of recipes out, Kitchen Gypsy, and you're going to want it. Weir, a veteran of the famed Chez Panisse in Berkeley, California, specializes in simple, hearty food, focusing on the quality and availability of local ingredients in order to make meals that are as authentically delicious as they are beautiful to behold. Peruse the recipes, read her excellent tales and tell us you're not struck with an immediate, urgent craving for pork belly tacos.

I had never cooked pork belly myself when I asked Gonzalo to help me come up with a pork belly taco for the Copita menu. Rich and creamy with a crisp, crackling exterior, his creation blew me away. With a tomatillo-laced, nutty pipián sauce and pickled red onions on top, I can only describe this taco as out of this world.
Ingredients
Pork belly
1/4

cup

kosher salt

1/4

cup

sugar

2

tablespoons

cider vinegar

1/2

celery stalk, chopped

1/2

yellow onion, chopped

1

small carrot, peeled and chopped

1

tablespoon

black peppercorns, coarsely crushed

1

tablespoon

coriander seeds, coarsely crushed

2-pound

piece

pork belly, skin removed
Rice bran oil for deep-frying

12

corn tortilals

Chopped cilantro for garnish
Pipián sauce
15

tomatillos, husks removed and cored

3

garlic cloves, peeled but left whole

1 1/2

serrano chiles, stems removed

1/2

cup

pumpkin seeds

1/2

teaspoon

cumin seeds

1

whole clove

1 1/2

teaspoons

dried oregano

1/2

cup

lightly packed fresh cilantro stems and leaves

2

cups

chicken stock (recipe included) or water

kosher salt

2

tablespoons

canola or olive oil
Chicken stock
5

pounds

chicken parts, such as backs, necks and wings, trimmed of excess fat

1

yellow onion, coarsely chopped

1

carrot, coarsely chopped

12

flat-leaf parsley sprigs

3

thyme sprigs

1/4

teaspoon

dried thyme

2

bay leaves
Pickled red onions
1

red onion, thinly sliced

1/2

cup

freshly squeezed lime juice

1

teaspoon

kosher salt
Directions
For the pickled red onions
In a bowl, combine the onion slices, lime juice and salt. Add water just to cover, then stir together, mixing well. Let sit for 1 hour. To use, scoop out what you need and refrigerate the remainder in the lime-water mixture for up to 2 days.
For the chicken stock
In a large stockpot, combine the chicken, onion, carrot, parsley stems, thyme, and bay leaves. Add water to cover by 2 inches and bring to a boil over high heat. Immediately reduce the heat to medium-low, skimming off any foam that rises to the surface. Simmer gently, skimming as needed, until the meat is falling off the bone and the stock tastes very rich, 5 to 6 hours. As the level of the liquid decreases in the pot, replenish it with water to maintain the original level.

Scoop out and discard the larger pieces with a slotted spoon, then strain the stock through a fine-mesh strainer into a large bowl. If using immediately, use a large metal spoon to skim off as much of the fat from the surface as possible. If not using immediately, let it cool at room temperature, then cover and refrigerate overnight. The next day, using a spoon, lift off and discard the fat that solidifies on the surface. Transfer the stock to 1 or more airtight containers and refrigerate for up to 5 days or freeze for up to 2 months.
For the pipián sauce
Heat a large frying pan over medium-high heat. Add the tomatillos, garlic, and serrano chiles and toss and stir occasionally until nicely charred on all sides, 4 to 5 minutes. Transfer to a blender. Add the pumpkin seeds, cumin seeds, and clove to the same pan and toss and stir until golden, 2 to 3 minutes. Pour the contents of the frying pan into the blender and add the oregano, onion, cilantro, and stock. Process until a smooth sauce forms, then season with salt.

Place a medium frying pan over high heat, add the canola oil, and heat until the oil begins to ripple and smoke. Add the sauce, reduce the heat to low, and cook, stirring constantly, until it thickens slightly, 3 to 4 minutes. Remove from the heat. Serve warm.
For the tacos
To make the pork belly, combine in a saucepan the salt, sugar, vinegar, celery, onion, carrot, peppercorns, coriander seeds, and 8 cups water. Place over high heat and bring to a boil, stirring to dissolve the salt and sugar. Remove from the heat and let cool to room temperature.

Using a sharp knife, score the fatty side of the pork in a crosshatch pattern, cutting about 1/2 inch deep. Place the pork belly in a 9- by 12-inch baking pan and pour the cooled liquid over it. Cover the pan with parchment paper and then with foil and refrigerate overnight.

Preheat the oven to 350°F. Remove the parchment and transfer the pan to the oven. Braise the pork belly until the meat is tender and can be easily pierced with a thin skewer, 3 to 4 hours.

Line a rimmed baking sheet with parchment paper. Remove the baking pan from the oven and transfer the pork belly to the prepared baking sheet. Lay a piece of parchment paper the size of the baking sheet on top of the pork belly, then set a second baking sheet on top of the paper. Place a brick or other heavy object, such as a couple of large cans of tomatoes, on top of the second baking sheet. Refrigerate for about 5 hours.

Remove from the refrigerator and lift off the weight(s), the top baking sheet, and the parchment. Transfer the pork belly to a cutting board and cut into 1/2-inch cubes. Place the cubes in a bowl and set aside until using.

To deep-fry the pork belly, pour the rice bran oil to a depth of 2 inches into a deep, heavy-bottomed saucepan and heat to 375°F. Working in batches, add the pork belly and fry until golden and crispy, 3 to 4 minutes. Using a slotted spoon, transfer to paper towels to drain.

While the pork belly is frying, place a large nonstick frying pan over medium heat. Working with 2 or 3 tortillas at a time, place them in the pan and heat, turning them as needed, until they begin to blister slightly, 1 to 1 1/2 minutes. Transfer to a plate and cover with a kitchen towel to keep warm.

To assemble the tacos, place a couple of tablespoons of the warm sauce on each tortilla, top with some pork, and garnish with the pickled onions and cilantro.