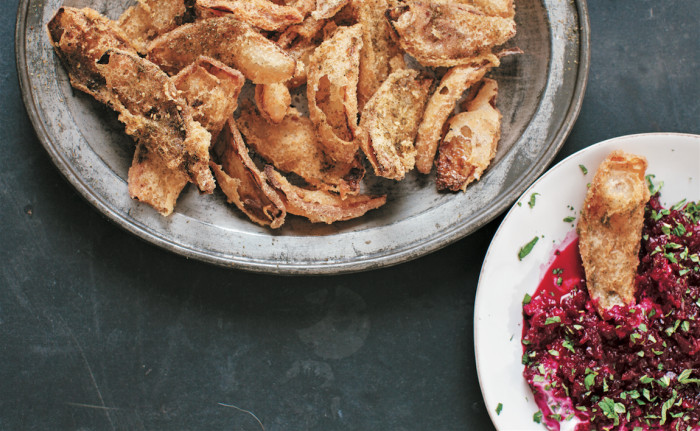 Where would modern cuisine be without the humble but mighty onion? Whether you're reaching for shallots, chives, cipollinis, scallions, garlic or those little pearl onions that are very hard to peel (worth it though), there's an innovative recipe in Onions Etcetera for you. These fried onion petals are a zippy, crunchy snack with a pink punch from beets and labneh. 
Chef Josh Thomsen introduced us to a dish of crisp fried onion wedges that were the perfect size and shape for scooping up a vivid dip of minced roasted beets. We also love the fried chicken dusted with za'atar — a popular Middle Eastern seasoning blend of sesame seeds, sumac and thyme — served at Federal Donuts in Philadelphia. And so a mashup was born: fried onion petals seasoned with za'atar and meant to be dipped in a lemony mash of beets and labneh. Ketchup who?
Ingredients
1

large beet

2

teaspoons

freshly squeezed lemon juice

Kosher salt and freshly ground black pepper

2

large sweet onions

2

cups

buttermilk (or 1 cup plain whole-milk yogurt mixed with 1 cup water)

3

cups

rice flour

1

teaspoon

salt

2 1/2

cups

Club Soda

peanut or vegetable oil, for frying

1

cup

labneh or Greek yogurt

fresh mint leaves

1

tablespoon

za'atar
Directions
For the onion petals
Heat the oven to 400°F. Wrap the beet tightly in aluminum foil and roast until tender, about 45 minutes. Remove from the oven and loosen the foil. When the beet is cool enough to handle, peel and cut it into a few large chunks.

Place in a food processor and pulse a few times until finely chopped, but not juiced. Transfer the chopped beet to a bowl and stir in the lemon juice. Season with salt and several grinds of black pepper. Refrigerate until ready to serve.

Cut each onion lengthwise into 8 wedges. Separate the wedges into "petals" — use only the outermost wedges, saving the smaller inner pieces for another use. Pour the buttermilk into a large bowl and add the onions, setting aside to soak for an hour or so. Put 1½ cups rice flour in a medium bowl and whisk in 1 teaspoon salt. Whisk in the club soda until smooth. Put the remaining 1½ cups rice flour in a shallow dish. When ready to fry, heat about 2 inches of oil in a deep heavy skillet over moderately high heat. If using a thermometer, bring the oil to about 375°F. Line a baking sheet with newspapers or paper towels.

Scoop up a few of the onion petals from the buttermilk, letting the excess drip back into the bowl, then dredge in the rice flour until lightly coated, before dipping in the batter. Add the battered petals to the hot oil and fry, flipping once, until golden brown all over, 2 to 3 minutes per batch. Transfer the petals to the lined baking sheet and repeat with the remaining onions, allowing the oil to come back to temperature between batches. Keep the onions warm in a very low oven until ready to serve.

Spoon the labneh into a small bowl and top with the beet mixture. Mince a few mint leaves and scatter over the beets. Transfer the onion petals to a platter and sprinkle with the za'atar and some salt. Serve with the beet and yogurt mixture.