Fried Okra Tacos Recipe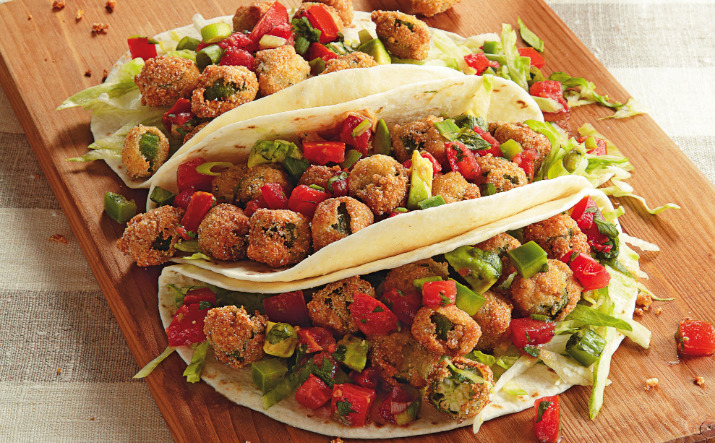 Photo: Helene Dujardin
Leave it to Southern Living magazine to pen a cookbook featuring the very best of Southern fried food. While we're crazy about their buttery, booze-spiked confections and ways with bourbon, there's something about the Southern way of strategic deep-frying that really hits home. These okra tacos are fried food as it was meant to be.
A tip from the authors:
"A sprinkling of sugar in the cornmeal coating caramelizes as the okra cooks, creating a crisp, golden crust."
Fried Okra Tacos Recipe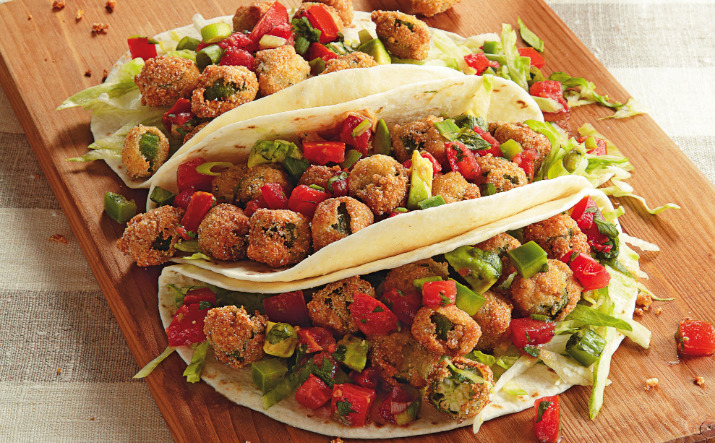 Ingredients
1 pound fresh okra
3/4 cup buttermilk
1 1/2 cups self-rising white cornmeal mix
1 teaspoon salt
1 teaspoon sugar
1/4 teaspoon ground red pepper
vegetable oil
3 cups tomatoes
1 large avocado
1/2 cup green onions
1/3 cup fresh cilantro
1 1/2 teaspoons balsamic vinegar
1/2 teaspoon seasoned salt
table salt
hot sauce
Directions
Stir together okra and buttermilk in a large bowl.
Stir together cornmeal mix and next 3 ingredients in a separate large bowl. Remove okra from buttermilk, in batches, using a slotted spoon, discarding buttermilk.
Dredge in cornmeal mixture, and place in a wire-mesh strainer. Shake off excess.
Pour oil to depth of 1 inch into a large, deep cast-iron skillet or Dutch oven; heat to 375°. Fry okra, in batches, 4 minutes or until golden, turning once. Drain on paper towels.
Fill warm tortillas with shredded lettuce, hot buttermilk fried okra, and fresh tomato salsa. Serve with hot sauce.
Stir together diced tomatoes and next six ingredients. Season with table salt to taste.
Smoked Pork Belly Carnitas Tacos Recipe
The Best Grilled Fish Tacos. Period.
Easy Potato Tacos Recipe