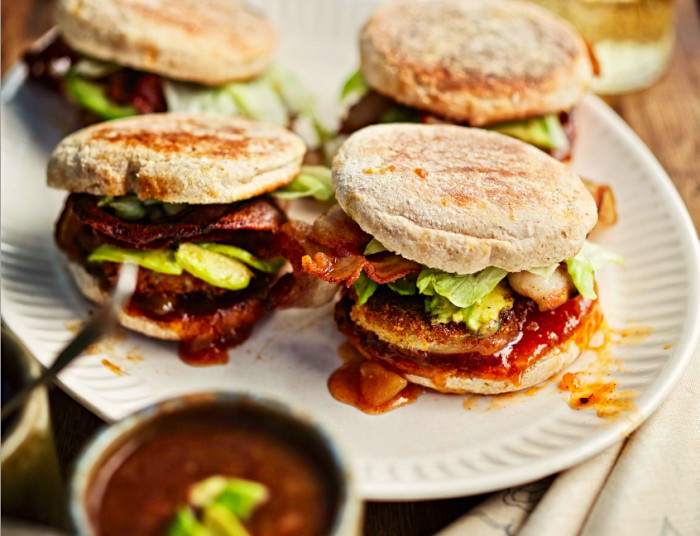 One Pan, Two Plates is our favorite new book for easy weeknight dinners. Carla Snyder's recipes are fast, flavorful and minimal on the clean-up (which is always okay by us). First up, use those first tomatoes of the summer right!
Most everyone gets excited about ripe summer tomatoes. But I'm addicted to the unripened green ones! Especially when they're fried up crispy in a hot, hot pan of bacon fat. And they're even more delectable when paired with creamy avocado, crunchy iceberg lettuce, salty bacon and tucked inside a toasted English muffin spread with tart-sweet Major Grey's chutney. This meal, a harmonious blend of rebel yell and Union Jack, is definitely something to get excited about.
Ingredients
3/4

cup

panko breadcrumbs

1/4

cup

all-purpose flour

1

large

egg

1

green tomato, cut into 4 big slices, 1/2-inch thick

Salt and freshly ground black pepper

8

slices

bacon

1

tablespoon

vegetable oil, or as needed

1/3

cup

Major Grey's chutney

4

English muffins, split and toasted

1/2

ripe avocado, peeled and thinly sliced

4

or 8

iceberg lettuce leaves
Directions
Put the panko and flour in two separate shallow bowls. Put the egg in a third shallow bowl and beat until well blended. Sprinkle the tomato slices on both sides with salt and pepper and dredge them in the flour, shaking off the excess. Dip the slices in the egg and then dredge them in the panko to coat completely. Set aside on a plate.
Heat a 12-inch skillet over medium-high heat and add half the bacon slices. Cook, turning as needed, until crispy, 5 to 7 minutes total. Transfer to paper towels to drain. Cook the remaining bacon in the same way.
There should be lots of bacon fat in the pan for frying the tomatoes, but add the vegetable oil if it ever seems to be too dry. Add the breaded tomato slices to the hot pan and fry until browned on the first side, about 2 minutes. Flip them over carefully with a wide spatula and cook to brown the second side, another 2 minutes or so. Transfer the tomatoes as they are finished to the plate with the bacon.
Spread some of the chutney on each toasted muffin bottom and top each with a tomato slice, one-fourth of the avocado, 2 slices of bacon and a lettuce leaf or two. Close up each sandwich with a muffin top. You will have four small sandwiches. (You'll wish you had a dozen!) Serve immediately.
Variation: If you can't find green tomatoes, make this sandwich with zucchini instead. Just slice a zucchini thinly (about 1/4-inch thick) and fry up 3 slices to pile on each sandwich (or more, depending on the size of your zucchini). You might need more panko for coating and oil for frying.
Looking ahead to summer with recipes on Food Republic: