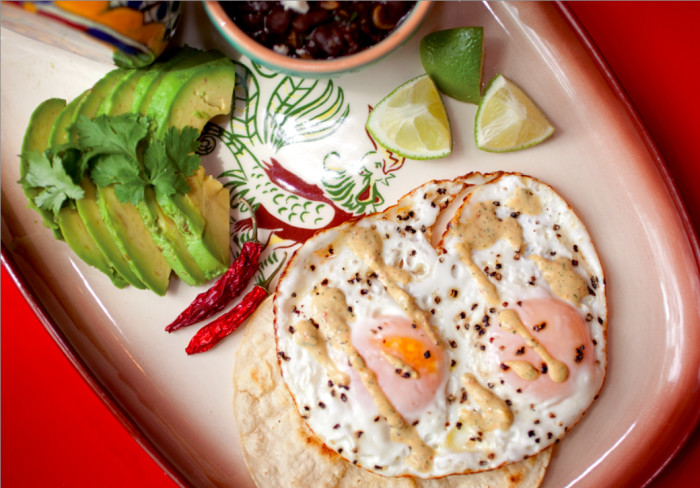 We're currently obsessed with the Austin Breakfast Tacos cookbook, having enjoyed more than one on a Food Republic field trip down South. All the famous egg tacos are in there, but this recipe via Adam at food blog Tasty Touring has those famous beans. We're all about famous beans. 
"I don't remember when I started making my famous black beans with chipotle sauce, but they've always been a big crowd-pleaser and I've kept them top-secret — until now. I hope you enjoy the flavors I've had the pleasures of sharing with my friends over the years."
Ingredients
Sauce
1

chipotle pepper from canned chipotles in adobo sauce

2-3

teaspoons

adobo sauce

2-3

heaping tablespoons

mayonnaise

4-6

cloves

garlic

juice from

1/4-1/2 lime

coarse black pepper and kosher salt, to taste

cilantro, to taste

2-4

tablespoons

stock
Black beans
2

dried chipotle peppers

1

(15-ounce) can

black beans

6-8

cloves

garlic, roughly chopped

cumin, to taste

coarse black pepper and kosher salt, to taste

chopped fresh cilantro, to taste

queso fresco
Taco
1

tablespoon

butter or olive oil

4

large eggs

coarse black pepper and kosher salt, to taste

2-4

tortillas

1

avocado, pitted and sliced
Directions
For the sauce:
Place all ingredients in blender and mix. You'll need to taste it and adjust to get the desired consistency and flavor.
For the beans:
Reconstitute the dried chipotles in hot water for a few minutes, remove the seeds and chop. Heat the beans, garlic and chipotles over medium heat. When the beans are warm, add cumin, and as they continue to heat, add salt, pepper and any other spices to taste. Take off the heat when the beans have softened, mix in the cilantro and serve topped with fresh cilantro and crumbled queso fresco.
For the tacos:
Heat olive oil or butter in a frying pan over medium-high heat. When the oil is hot and fragrant, crack eggs into pan and season with salt and pepper. Cook until you can see that the edges have caramelized and turned crispy. Cover pan with lid, preferably glass, and turn down heat to medium-low. While the eggs are cooking, preheat your choice of corn or flour tortilla, either in a toaster or a lightly buttered pan. Cook eggs until whites are set and yolks start to appear white but are still a bit loose. Place eggs in the tortilla with sliced avocado and chipotle sauce on top. The beans can be served on the side or rolled into the taco.
Try out these savory brunch recipes on Food Republic: