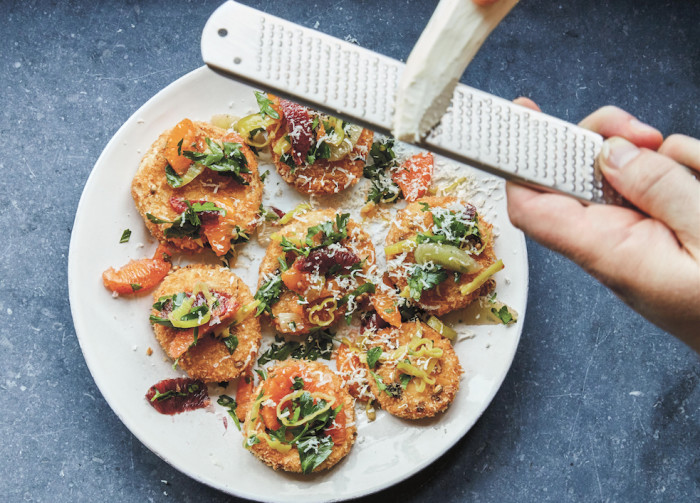 We'll never pass up a fantastic cookbook by a chef who's turned the focus squarely to vegetables. Portland's Joshua McFadden of renowned eatery Ava Gene's takes you on a tour of the bountiful garden through all the seasons. These fried celery root steaks are a hearty, flavorful way to pack in the produce. 
Even without the salad on top, these golden crisp disks are scrumptious — they have the comfort-food appeal of fried mozzarella sticks but are infinitely more nutritious and refined. Serve them as a vegetarian main dish or a side dish to roast pork. The two-step cooking process may seem fussy, but it ensures the celery root is thoroughly cooked, and it minimizes the actual frying time.
Ingredients
1

large celery root (about 2 pounds), peeled and cut into 3/4-inch-thick disks

extra-virgin olive oil

Kosher salt and freshly ground black pepper

1

cup

all-purpose flour

1

egg, beaten

1 1/4

cups

panko breadcrumbs

1/2

teaspoon

ground coriander

1

cup

citrus segments: choose from blood orange, tangerine, navel oranges, or Meyer lemon to make a nice mix

1/2

cup

lightly packed roughly chopped flat-leaf parsley leaves

1/4

cup

sliced pepperoncini

Fresh horseradish root, for grating
Directions
For the celery root steaks
Heat the oven to 400°F.

Brush or toss the celery root steaks with some olive oil, season with salt, spread in an even layer on a baking sheet, and roast until tender but not at all mushy, 15 to 20 minutes. Let the steaks cool.

Meanwhile, set up your work station like this: a plate with the flour; a shallow bowl containing the beaten egg; a shallow bowl with the panko and ground coriander tossed together; a wire rack or small tray; a tray lined with paper towels; and the final serving dish.

Gently dip a celery root steak into the flour and then into the egg, letting the excess drip off. Next dredge through the crumbs so that it is fully coated, patting to encourage the crumbs to stick. (This process gets messy, so try to use only one hand.) Transfer to the rack and continue with the rest of the steaks.

Pour 1/4 inch of oil into a medium skillet and heat to about 375°F. Add as many steaks as will fit comfortably and cook, turning once, until both sides are nicely browned, 2 to 3 minutes per side. Transfer to the paper towels.

Toss the segmented citrus with the parsley and pepperoncini. Season generously with salt and pepper. Arrange the celery root steaks on plates or a platter and top each with some salad. Grate a generous amount of horseradish over all and serve while the steaks are still hot and crisp.