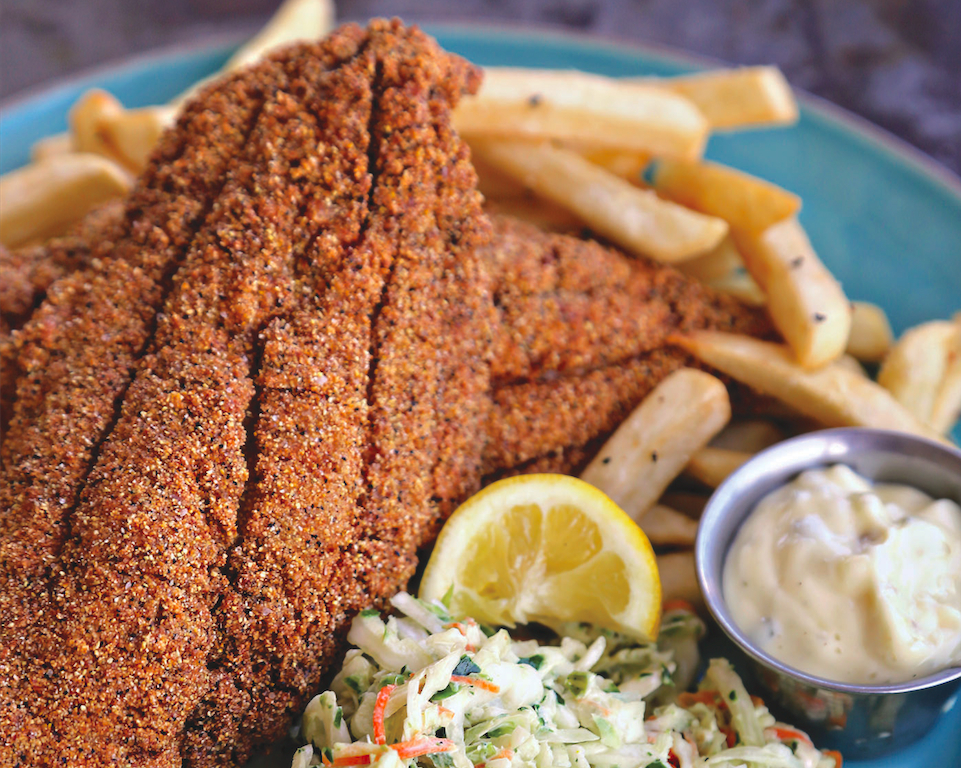 World-renowned pro pitmaster and chef Melissa Cookston's new cookbook, Smokin' in the Boys' Room, is exactly what you need to freshen up your grilling repertoire before prime season hits. She's a 3-time world champion, you know. From the cuts of meat you want to eat to sides, marinades and her own time-tested techniques, don't break out the barbecue before digging into this book. Or in this case, the fried fish fixins.
Mississippi farm-raised catfish is the best in the world. I'm not sure why, but I am sure that the folks in the Delta know their catfish. Farm-raised catfish is clean tasting, with a nice flaky texture when cooked correctly, and will compare favorably to much more expensive fish.
Ingredients
Tartar Sauce
1

cup

mayonnaise

2

tablespoons

sweet pickle relish

1

tablespoon

yellow onion, finely diced

1 1/2

teaspoons

lemon juice

pinch of

kosher salt

pinch of

black pepper, coarsely ground
Catfish
canola oil, for frying

2

cups

self-rising yellow cornmeal

1

tablespoon

black pepper, coarsely ground

1 1/2

tablespoons

kosher salt

1

teaspoon

granulated garlic

1

teaspoon

onion powder

4

fillets

catfish

1

cup

buttermilk

slices of

yellow onion or scallions for serving (optional)
Directions
To make the tartar sauce, combine all the ingredients in a small mixing bowl, whisk well, then set aside.
Heat 2 inches of oil in a large skillet or a deep fryer to 350°F.
Combine the cornmeal, pepper, salt, granulated garlic and onion powder on a large plate and mix well.
Rinse the fillets, then lightly dust them with the seasoned cornmeal.
Dredge through the buttermilk, then lay one side in the cornmeal mixture and press lightly to make sure the cornmeal sticks. Flip and press the other side.
Gently lay each fillet in the hot oil and cook for 2 to 3 minutes, then flip and cook for 2 to 3 minutes longer, or until the coating is crunchy and the fish is cooked thoroughly.
Remove the fillets and drain on paper towels, then serve with the tartar sauce on the side.
In Mississippi, it's also traditional to serve catfish with a slice of yellow onion or a whole scallion.
More deep-fried goodness on Food Republic: