Fried Catfish Po Boy Recipe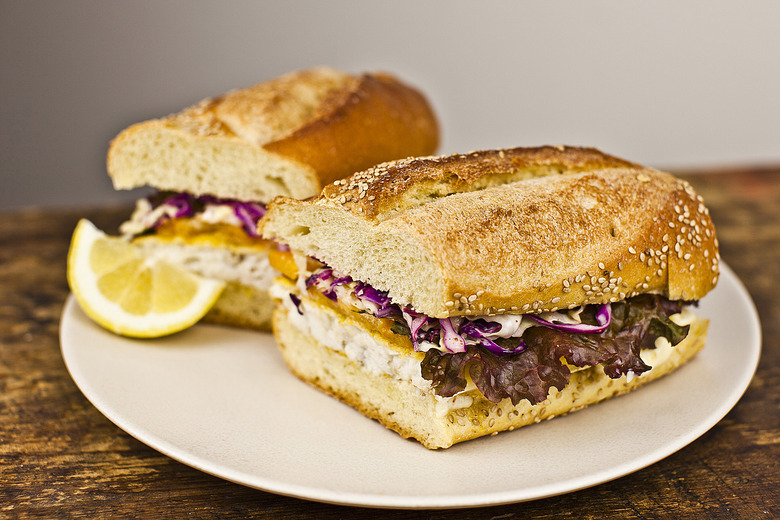 Photo: Mark Shaw
Few creations in this world are as worthy of Food Republic's Sandwich of the Week as this fried catfish po boy.
While we're crazy about all manners of deli offerings, there's nothing quite like the crunch of a lightly toasted sandwich containing something fried. The cool crunch of homemade coleslaw and warm flakiness of tender catfish contrast perfectly for an easy-to-make and entirely satisfying lunch or dinner.
Native to New Orleans and widespread throughout Lousiana, the po boy came about in the late 1920s during a streetcar conductor strike. One supportive restaurant provided the strikers, or "poor boys" with hearty sandwiches to keep up their rebellious strength. Like all great regional specialties, however, the po boy's true origins remain under debate.
Fried Catfish Po Boy Recipe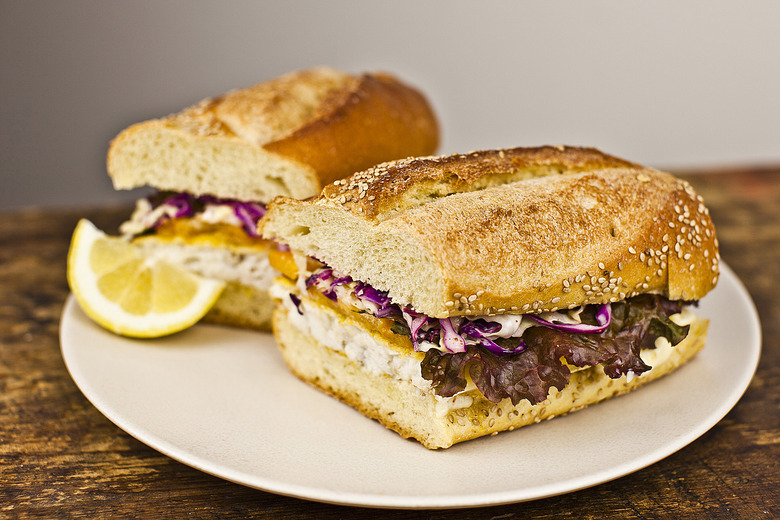 Ingredients
2 cups red cabbage
1/4 cup mayonnaise
1/2 teaspoon coarse salt
1/4 teaspoon celery salt
large pinch of freshly ground black pepper
1 tablespoon freshly squeezed lemon juice
1 egg
2 large catfish fillets
1/2 cup yellow cornmeal
1/4 teaspoon each salt and cayenne pepper
canola or vegetable oil
1 long French or Italian roll
1 ripe tomato
4 leaves red-leaf lettuce
sliced dill pickles
Directions
Combine all coleslaw ingredients in a medium bowl, cover and refrigerate.
Beat egg in a shallow dish. Preheat oven to 375 degrees.
Combine cornmeal, salt and cayenne in a shallow dish, then dip each catfish fillet in egg and coat thoroughly in cornmeal mixture.
Heat about 1/2 inch of oil over medium heat in a heavy skillet (cast-iron works best) and fry fillets on each side for 5-7 minutes or until golden brown. Drain on paper towels.
Lightly toast the bread directly on the racks in the oven for about 5 minutes.
Remove bread from oven, allow to cool slightly, then assemble each sandwich as follows: Catfish, lettuce, tomato, coleslaw, pickles.
Slice sandwiches in half and serve with a lemon wedge on the side.