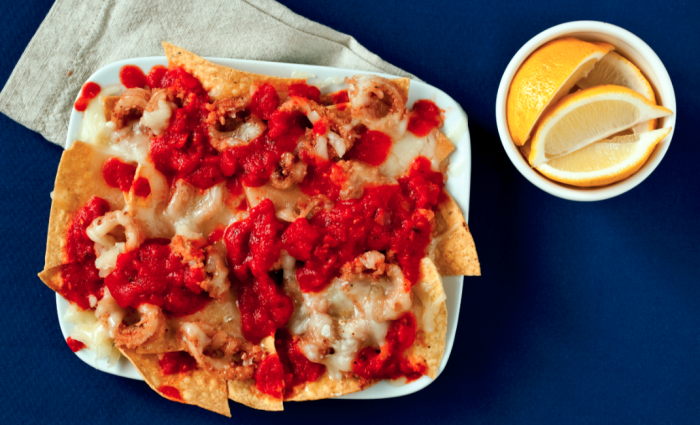 There's no better place for a nachos cookbook than the shelves of the Food Republic library, and no better way to snack than combining two awesome things. That's something we learned after making these fried calamari nachos, and we're better people for it.
It's so easy to screw up seafood nachos. For instance, cheddar cheese and lobster should stay far, far away from each other. However, in this recipe, calamari pairs nicely with mozzarella. To prevent the chips from getting soggy and the marinara from drying out, add the marinara sauce after the chips, cheese and fried calamari have baked in the oven.
Related: Does The World Need 84 Nachos Recipes? These Two People Think So.
Ingredients
1/2

pound

calamari, tubes only

1

cup

panko bread crumbs

1

tablespoon

Italian seasoning

1

teaspoon

salt

1

teaspoon

ground black pepper

vegetable oil, for frying

7

ounces

corn tortillas, approximately half of a store-bought bag or, if prepared fresh, use 15 corn tortillas, each cut into 6 triangles

8

ounces

mozzarella cheese, shredded (about 2 cups)

3/4

cup

prepared marinara sauce

1

lemon, halved

1/4

cup

coarsely chopped fresh flat-leaf parsley
Directions
Preheat the oven to 350°F.
Thinly slice the calamari into rings about 1/2-inch wide.
Mix the panko, Italian seasoning, salt and pepper in a large bowl. Toss the calamari in the panko mixture to coat.
Fry the calamari in a deep fryer or vegetable oil in a heavy-bottomed pot heated to 350°F until golden brown, about 1 minute.
Transfer the fried calamari to a paper towel-lined plate.
Layer the tortilla chips in a 9 x 13-inch roasting pan.
Evenly distribute the fried calamari over the chips.
Cover the chips with the shredded cheese.
Bake the nachos for 10 to 15 minutes until the cheese has melted.
While the nachos are in the oven, heat the marinara sauce in a small saucepan over medium heat. Evenly drizzle the warmed marinara sauce over the nachos.
Squeeze the juice from the lemon halves over the nachos. Garnish with the parsley.
Try out these nachos recipes on Food Republic: