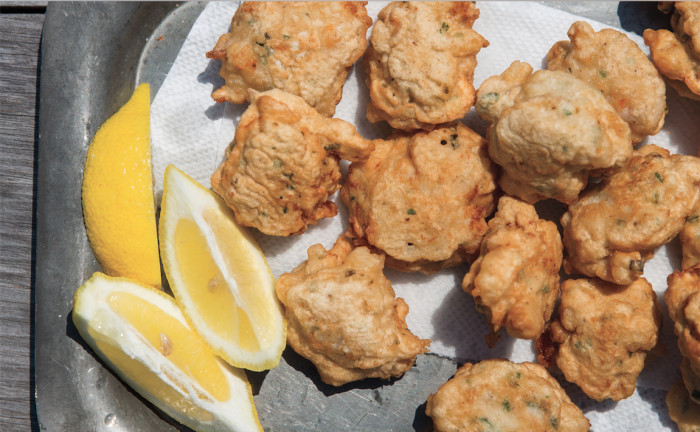 A masterful street food, Rhode Island clam fritters (aka clam cakes) aren't cakes at all — the best are briny Southern hush puppies. Think clam beignet: crispy and golden brown on the outside, pillowy and light inside, with savory bits of chewy minced clams and steam rising from the first bite. I was introduced to them as a counter girl at the Kool Kone in Wareham on Route 6, a tired, narrow strip of road that once was the main drag from New York to Cape Cod. ("Is this the way to Wareham?" the old yaw goes. "I don't know, ma'am, but they look all right to me.")

My first week on the job, making an ice cream sundae, I spilled a gallon bucket of walnuts on the filthy floor. In tears, I apologized to my bosses, an elderly couple who worked like dogs all summer (he was the jokester at the fryolator, she was the bad cop at the window tending the girls), then packed up their motor home and drove to Florida for the winter. "Don't worry," she said, chewing spearmint gum between her front teeth. "You'll rinse them, dry them off, and put them back in the bucket."

Serve the clam cakes with Tabasco sauce, lemon, and tartar or remoulade sauce. They refry well the next day, too: Just pop them in hot oil for a minute or two.
Ingredients
1

tablespoon

fresh chives

1

tablespoon

fresh chopped parsley

2

teaspoons

Old Bay Seasoning

1

teaspoon

salt

1/4

teaspoon

black pepper

2

cups

cake flour

1

teaspoon

baking powder

1

teaspoon

minced garlic

Pinch of

cayenne pepper

2

eggs

1/2

cup

beer (needn't be fancy)

1 1/2

cups

minced clams

1/2

cup

clam broth

vegetable oil for frying
Directions
For the clams
Mix together the chives, parsley, Old Bay, salt, pepper, flour, baking powder, garlic, and cayenne. In a large bowl, whisk together the eggs and beer, then add the clams and broth. Mix in the dry ingredients and stir to combine.

In a heavy skillet, heat oil (2 to 3 inches deep) to 360 deg. F (185 deg. C).

When the oil is hot, drop a tablespoon of batter at a time and fry until golden brown, 3 to 5 minutes per side. Fry just a few at a time.

Remove with a slotted spoon and drain on paper towels.