Fried And True: Chicken-Fried Short Ribs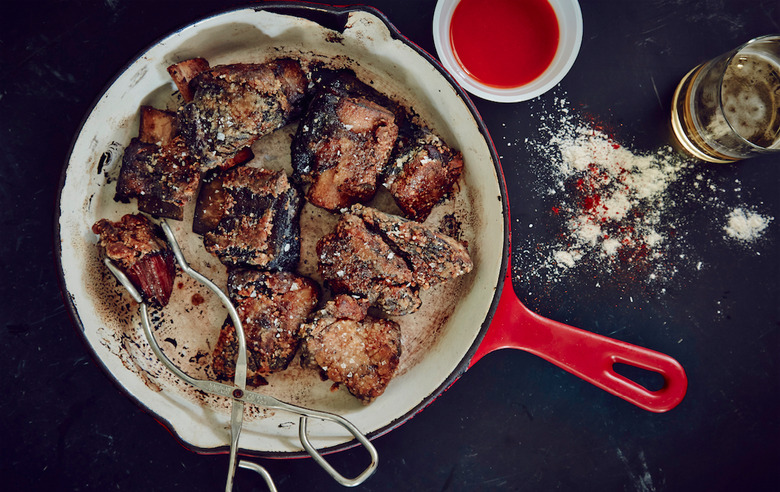 We may receive a commission on purchases made from links.
There are thousands of Southern-food cookbooks, but only one Garden & Gun magazine bent on compiling the best of the best of old and new recipes for its dedicated readership. Whether it's the classics or the updated hits that drive the modern Southern culinary movement, you're in for some seriously delicious hospitality. Chicken-fry anything you like, but if it happens to be short ribs, all the better.
At Underbelly in Houston, James Beard Award–winning chef Chris Shepherd and his full-time butcher go to work on an entire cow every single week. Which means they have to find creative uses for each part of the animal — including the ribs, which carry a whole lot of meat. "One day, we had ribs left over," Shepherd says, "and we said, 'Let's just braise and fry these damn things. It'll be delicious!'" Indeed they were. In a state where diners take chicken-fried steak very seriously, these ribs are a nod to tradition, but with more beef flavor than the customary eye of round. "It's chicken-fried steak, but it's also not," Shepherd says. "When you bite into it, it's meaty, tender and thick."
Fried And True: Chicken-Fried Short Ribs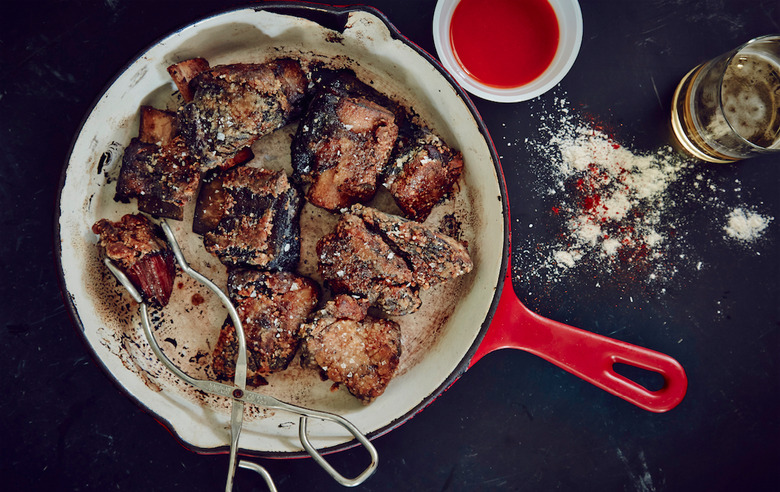 Ingredients
8 beef short ribs
Kosher salt and freshly ground black pepper
4 tablespoons olive oil
6 cups beef stock
1/2 bottle dry red wine (about 2 cups)
10 garlic cloves
1 carrot
4 stalks celery
1 cup all-purpose flour
1 tablespoon plus 1 teaspoon kosher salt
1 tablespoon freshly ground black pepper
1 teaspoon paprika
2 large eggs
1/4 cup whole milk
Peanut oil for frying
Directions
:::short ribs:::
Preheat the oven to 325˚F.
Season the short ribs generously with salt and pepper. Place a large cast-iron skillet over high heat and add the oil. Sear the ribs for 1 to 2 minutes per side, working in batches if necessary to prevent crowding.
Place the ribs in a deep pan and add the stock, wine, garlic, carrot, onion and celery. Make sure the ribs are submerged in the liquid, then cover with foil and braise in the oven for 6 hours, carefully turning them in the liquid halfway through cooking (you want the braised meat to stay attached to the rib bone if possible).
Carefully remove the ribs to a plate, cool to room temperature, then refrigerate. The ribs can be braised and cooled the day before frying. (Strain and save the stock for another use — it makes delicious gravy.)
:::dredging of the ribs:::
Combine all the seasoned flour ingredients in a large bowl. In a separate bowl, whisk together the eggs and milk to make an egg wash.
Dredge the cooled ribs in the seasoned flour, then dip them in the egg wash and dredge again.
:::frying of the ribs:::
Pour 1 ⁄2 inch of oil into a Dutch oven or a large, deep-sided cast-iron skillet and clip a frying thermometer to side of the pan. Bring the oil to 325 to 350˚F over medium-high heat (the temperature will drop when the ribs are added, so you want to make sure to regulate the heat to maintain a temperature right around 325 to 350˚F as you fry).
Working in batches, shake off excess flour and carefully add the ribs to the pan, adjusting the heat as needed to ensure the oil maintains an even temperature. Fry each side for 2 to 3 minutes, until golden brown. Drain on a paper towel–lined plate and serve.