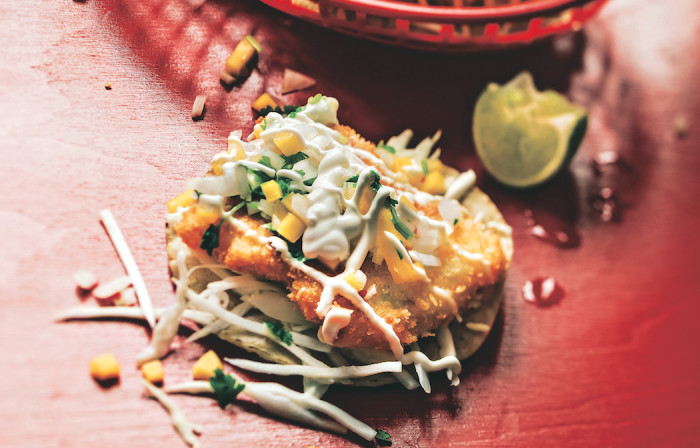 Swedish food writer and author Jonas Cramby might not seem like the most likely candidate to pen books on Texas barbecue, overstuffed sandwiches or, in this case, Tex-Mex (the good kind), but his work speaks for himself. With a dedicated online audience and lots of fans of his cookbooks, Cramby really did write the book on tacos. Follow this formula to Baja heaven. 
Fish and coleslaw might not sound particularly appetizing, but I promise you: Baja fish taco is the king of tacos.
Ingredients
Baja fish
3/4

cup

all-purpose flour

2

teaspoons

chili powder

2

teaspoons

ground cumin

1

tablespoon

paprika

salt

1

egg

1

cup

panko bread crumbs (or more if needed), (or more if needed)

oil, for deep frying

1 1/4

pound

fish fillets, such as tuna steak, sea bass or halibut
coleslaw
1

tablespoon

freshly squeezed lime juice

1

tablespoon

Dijon mustard

2

garlic cloves, crushed

2

egg yolks

1

cup

corn oil

lime zest, to taste

Salt and freshly ground black pepper

1/4

red or green cabbage
Directions
For the tacos
Mix the lime juice, mustard, garlic, and egg yolks together for the coleslaw. Pour the oil into the mix slowly while whisking with an electric mixer. Be careful so it doesn't split. Add lime zest and salt and pepper to taste.

Finely shred the cabbage and mix with the garlic mayonnaise — don't use too much, just enough so the cabbage is covered. Put it into the refrigerator.

Just before it's time to eat, mix the flour and the spices together on a plate, whisk the egg and put onto another plate, and put the panko onto a third. Heat an inch or two of oil in a deep skillet or a saucepan to 350°F.

First dip the fish fillets into the spiced flour, followed by the egg, and finally into the panko. Drop into the hot oil. Deep-fry for a couple of minutes on each side, until the panko bread crumbs have turned brown, then drain on paper towels.

Serve with small wheat or corn tortillas.