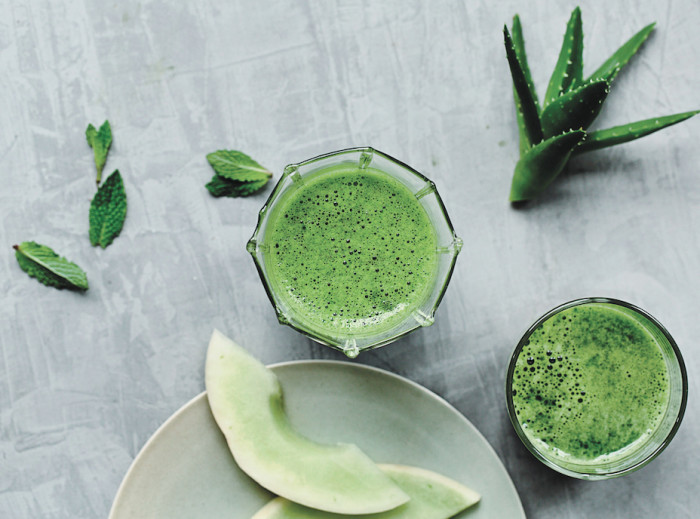 Celebrity chef and fitness guru Candice Kumai's latest book, Clean Green Eats, is your guide to enjoying whole foods like you never have before. Kick it off with a detox juice made with three body-cooling ingredients. 
After a fabulous morning yoga session, or a run with the man, opt for this electrolyte-packed refresher. You'll be a fan of aloe's immunity-boosting powers and hydration, along with its nutritious bennies. Not just for cuts and scrapes, aloe is great for the inside of your body as well! Delish!
Clean green juicers: When selecting a juicer, get smart. Invest in a masticating, cold-pressed juicer, like a Hurom, Omega, or Norwalk juicer. Masticating juicers crush juice with little or no heat, giving you the full benefits of fresh juicing. Happy crushing!
Ingredients
1 1/2

large cucumbers, unpeeled

3

tablespoons

peeled aloe vera leaves

1/4

cup

honeydew melon, sliced, rind removed

4

cups

baby spinach

1/2

cup

fresh mint leaves
Directions
For the juice
Put all the ingredients into a high-powered juicer and juice. Serve immediately.