Fresh Tomato Bruschetta With Basil Recipe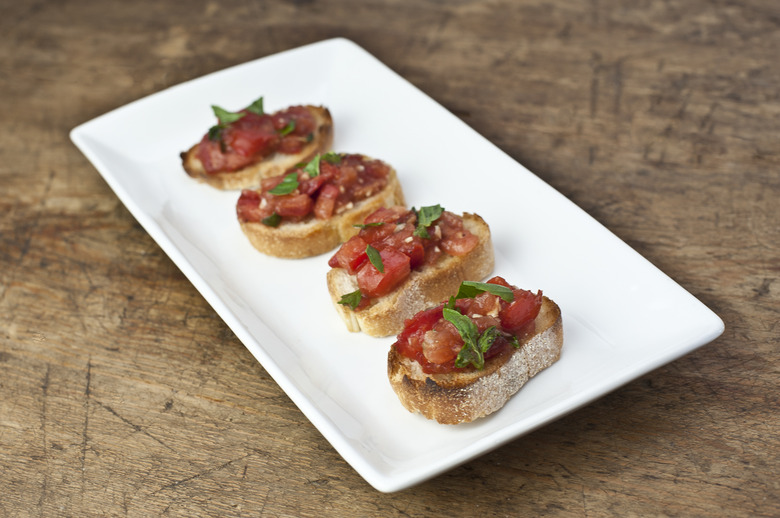 Photo: Mark Shaw
When I'm hosting a dinner party, I tend to channel the Italian-American side of my family, which means lots of lasagna and other pasta-based classics. But waaaaaay before the main course is served, I always make sure that guests have plenty of wine and/or booze, and lots of delicious snacks. Almost always, bruschetta is served.
Bruschetta is pretty fun to make, and besides requiring minimal effort, it can be prepped ahead — that way the juices from the tomato mixture seep into the grilled bread, providing a hard-soft contrast that I love.
Though it can be tricked out with melted mozzarella and onions and ham, I prefer to keep it simple, just fresh tomatoes, basil, garlic, olive oil, balsamic vinegar and the most awesome fresh Italian bread I can get my hands on.
Fresh Tomato Bruschetta With Basil Recipe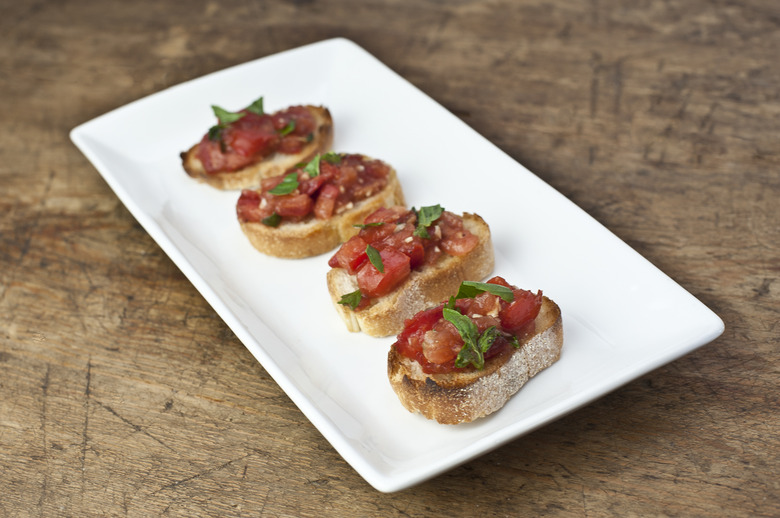 Ingredients
1 loaf Italian bread
6 ripe plum tomatoes
2 cloves fresh garlic
1/2 bunch fresh basil
1 1/2 cups extra virgin olive oil
1 teaspoon balsamic vinegar
Directions
Preheat oven to 450F with rack in top slot.
While oven is preheating, parboil the tomatoes whole for one minute in water that is still boiling, but removed from the burner. 
After removing the tomatoes from the water, peel them using a small knife (this is optional but recommended), then core them and remove the seeds; roughly chop the tomatoes, while reserving a bit of the juice. 
Add 1 tablespoon of the extra virgin olive oil, the balsamic vinegar and a few drops of reserved tomato juice into a bowl and mix. Add the basil and garlic, then salt and pepper to taste.
Cut the Italian bread (or a baguette) on the diagonal, about 1/3- or 1/4-inch slices*
Brush the remaining olive oil on one side of the bread slices, then place them oil-side down on a cooking sheet in the 450F oven. (Some people skip this and toast the bread, then rub whole garlic slices over it. Not me.) Remove from oven after the rims of each slice have begun to brown.
Turn the slices over and spoon the tomato mix onto each slice on the olive-oil side (either right before serving or if you like the soggy-middle effect like I do, 15-30 minutes before serving), then place on a serving tray.