Vegetarian Vietnam: Roll Up Fresh Swiss Chard Rolls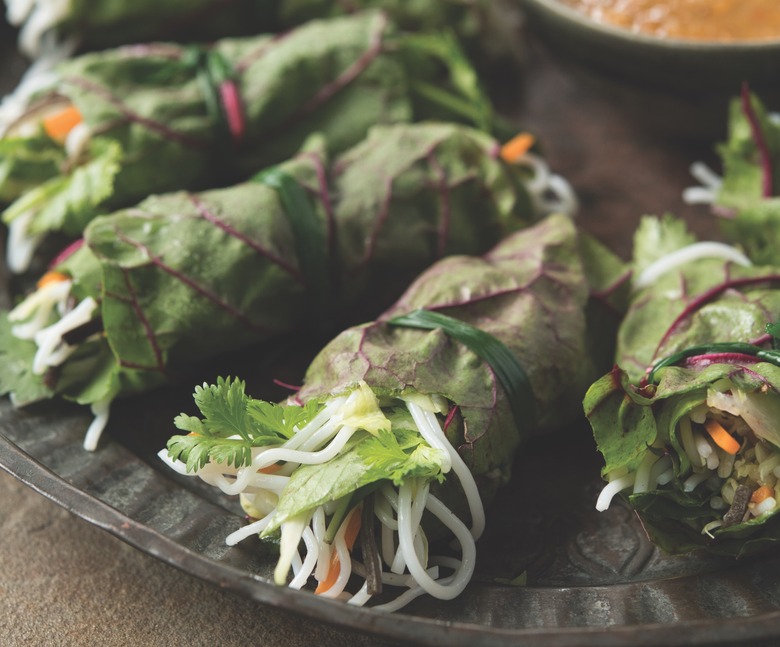 We may receive a commission on purchases made from links.
While Vietnamese food may you may think of heaping bowls of beef bone soup, grilled meats and plenty of fish, the vegetarian options in this culinary-obsessed nation are some of the best you'll find in the world. Explore the plant-based side of this beloved cuisine, like these fresh, healthy Swiss chard rolls. 
I consistently order this exceptionally beautiful fresh roll at vegetarian restaurants in Sài Gòn. I adore how a bit of the filling, vermicelli noodles with sautéed cabbage, carrots, and fresh herbs, peeks out the sides, begging for a dip in a creamy peanut sauce. They're easy to assemble and fabulous to serve as part of a light summer meal or as an hors d'oeuvres.
I've substituted Swiss chard, which serves as the wrapper, for the traditional mustard leaves, as they're available year round in grocery stores. Try to select bunches with young tender leaves, 4 to 5 inches wide, that lie flat. In the summer months it's worth looking for peppery Asian mustard leaves at Asian grocers, as ruffled, large-leaved American mustard leaves are too sharp for this recipe. Other leafy greens (lacinato kale, collard greens, or even kohlrabi leaves) make fine substitutes. When using larger leaves or other greens (unless they're tender and lie flat), blanch them first in boiling water, refresh them in cold water, pat them dry, and trim away the thick central ribs before using.
Vegetarian Vietnam: Roll Up Fresh Swiss Chard Rolls
Explore the plant-based side of Vietnamese cuisine, like these fresh, healthy Swiss chard rolls from a new cookbook we can't put down.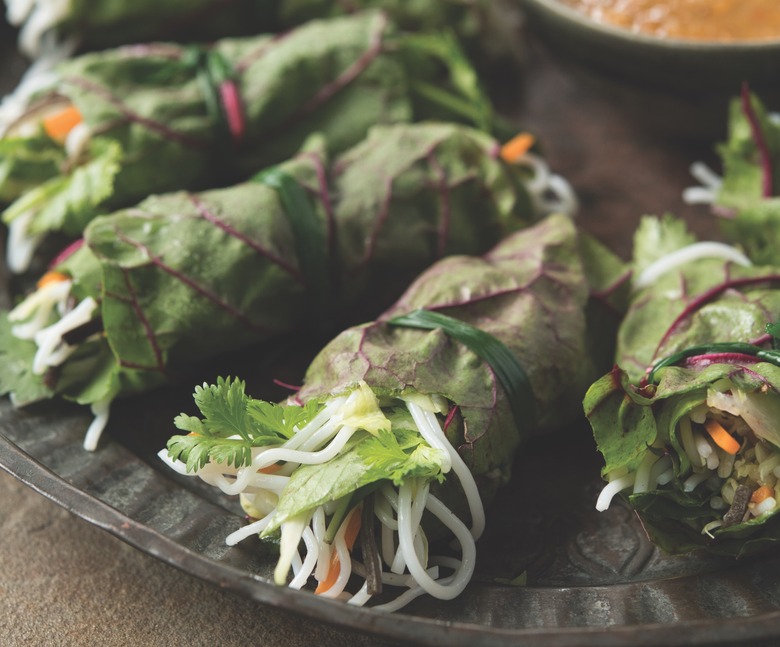 Ingredients
2 dried wood ear mushrooms
20 scallions (plus a few extra in case a couple break when tying)
4 ounces dried vermicelli rice noodles
1 tablespoon vegetable oil
1 cup shredded green cabbage
1/2 cup packed grated carrot (1/2 medium)
1/4 teaspoon salt
1/8 teaspoon freshly ground black pepper
16 or more young tender Swiss chard leaves or whole Asian mustard leaves
32 thai basil leaves
32 cilantro sprigs with 2 or 3 leaves each
1 teaspoon vegetable oil
1 tablespoon finely chopped scallion
2 tablespoons fermented soybeans or soybean paste
2 tablespoons roasted unsalted peanuts
2 tablespoons toasted sesame seeds
1 teaspoon sugar
3/4 cup plus 1 tablespoon water
1 1/4 teaspoons cornstarch
Directions
:::sauce:::
Heat the oil in a small saucepan over medium heat. Add the scallion and cook for about 1 minute, until softened. Add the fermented soybeans, 1 tablespoon each of the peanuts and sesame seeds, the sugar, and 3/4 cup of the water. Give it a good stir. Immediately remove the pot from the heat and transfer all the contents to a blender.
Puree briefly on the blender's lowest setting and then increase to medium or high speed for a minute. Pour the sauce back into the saucepan. Mix the cornstarch and 1 tablespoon cold water in a small bowl, then stir it into the sauce. Bring the sauce to a boil over medium heat. Reduce the heat slightly and simmer for a couple of minutes, or until it is slightly thickened and lightly coats the back of a spoon. Transfer to a serving bowl to cool.
Finely chop the remaining peanuts. Stir them and the remaining sesame seeds into the sauce. Serve at room temperature. The Sauce can be made in advance and kept refrigerated for several days. If made more than a day in advance, it may separate a touch. Give it a quick stir before serving.
:::rolls:::
Soak the wood ear mushrooms in warm water for 20 minutes. Drain and squeeze out any excess water. Cut off any hard, chewy centers and thinly slice into 1-inch lengths.
Bring a large pot of water to a boil over high heat. Set a bowl of ice water next to the stove. (If using another type of green as wrapper, blanch it before the scallions.) Trim the scallions at a point about 2 inches from the root end, just below the part where they turn from light green to dark green (reserve scallion whites for another use). Blanch the scallion greens (or chives) for 10 seconds and transfer to the ice water to stop them from cooking and to preserve their bright green color. After a few minutes, drain well. This process helps strengthen scallion greens for tying the Swiss chard or mustard leaves. Gently squeeze out the water and carefully spread out on a clean dish towel to dry.
Drop the noodles into boiling water and use chopsticks or tongs to untangle and loosen them. Boil until tender, 3 to 5 minutes, then drain and immediately flush with cold water. Gently squeeze four or five times to get rid of any excess water. Set aside on a large plate, loosely covered with a clean dish towel, as you prepare the remaining ingredients. (You should have about 2 cups of noodles.)
Heat the oil in a medium saucepan over medium heat. Add the cabbage, carrot, mushrooms, salt, and pepper. Cook, stirring occasionally, for about 4 minutes, or until soft but still a little crunchy. Transfer to a large plate to cool for a few minutes.
Lay a Swiss chard leaf or mustard leaf, with the darker green side facing down and the bottom stem pointing toward you, on a cutting board. Trim the stem off at the point where the leaf ends. To remove the thicker, less flexible part of the stem, cut out a 1½-inch narrow V shape along either side of the bottom part of the stem. (If the leaves you have are less than 7 inches long, place a second one on top of the bottom leaf, slightly overlapping in the middle, to make a "leaf" 8 inches long.)
Lay a blanched scallion green beside and perpendicular to the Swiss chard or mustard leaf on the board.
Place approximately 2 tablespoons of noodles over the bottom third of the leaf, trying to cover the middle 3 inches. Spread a tablespoon of vegetables over the noodles. Place 2 basil leaves and 2 cilantro sprigs on top.
Gently yet tightly, pull the bottom of the leaf over the filling and continue to roll until all of it is rolled up. Lift the leaf package and place on the middle of the scallion, if possible trying to line it up with the midrib of the leaf. Tie the scallion using two quick knots, to secure the roll. Use a knife or scissors to trim any long ends of the scallion if need be. Set aside on a serving platter and repeat until all of the remaining ingredients are used up.
Refrigerate the rolls, covered with plastic wrap, for up to a couple of hours or serve immediately with the dipping sauce.