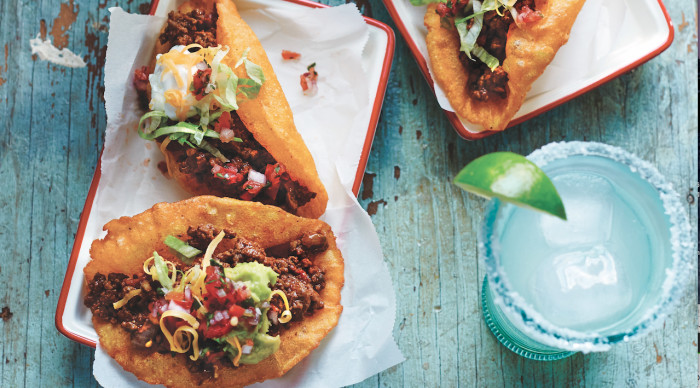 Fourth-generation Texan Jessica Dupuy penned a culinary ode to her home state's many food cultures, all alive and well. Whether it's schnitzel, barbecue or something with a little more Mexican heritage, like this awesome San Antonio–style taco recipe, you can be sure you're eating authentic heritage Texas chow.  
Original tacos were a little different than the stale, fried corn tortillas machine-pressed into a U-shaped envelope — an invention of fast-food entrepreneur Glen Bell of the famed Taco Bell. The real deal begins with a ball of masa flattened into a thin round that is fried to a golden crispness. The masa puffs up a bit, which is how the moniker "puffy taco" came into play. Stuff with ground taco meat, shredded lettuce, diced tomatoes, and shredded cheese.
Note: If you can't find fresh masa, whisk together 3 cups masa harina (corn flour), 1 1/2 Tbsp. all-purpose flour, 1 1/2 tsp. baking powder, and 1 1/2 tsp. salt. Whisk in 2 1/4 cups very hot water until dry ingredients are moistened. (Add more hot water 1 tsp. at a time.) Knead 3 to 4 times to make a smooth dough.
Ingredients
Masa dough
1/4

pound

pork lard (about 1/2 cup)

2 1/2

pounds

freshly ground masa

2

teaspoons

sea salt

1 1/3

cups

warm pork broth
Tacos
Wax paper

vegetable oil

1

onion, chopped

1

jalapeno pepper, seeded and minced

2

garlic cloves, minced

1

pound

ground beef

2

plum tomatoes, chopped

4

teaspoons

chili powder

1

tablespoon

ground cumin

1

teaspoon

table salt

1/2

cup

Mexican beer

Toppings: shredded cheese, shredded iceberg lettuce, sour cream, fresh salsa, guacamole
Directions
For the masa
Beat lard at medium speed with an electric mixer for 2 minutes.

Stir together masa and next 2 ingredients in a bowl until well blended. Gradually add masa mixture to lard, beating at medium speed just until blended after each addition. Cover until ready to use.
For the tacos
Shape masa dough into 18 golf-ball-sized (about 2 Tbsp.) portions. Cut sides off a zip-top plastic freezer bag. Line top and bottom of a tortilla press with freezer bag. Place masa rounds in freezer bag within tortilla press, and close, forming round tortillas. (If you don't have a tortilla press, use a flat plate, skillet, or flat-bottomed bowl, and press masa balls into flat rounds against countertop between sheets of wax paper. To ensure even thickness, press dough rounds once, rotate 180°, and press again.) Gently stack uncooked masa rounds between layers of wax paper.

Pour oil to depth of 3 inches into a Dutch oven; heat to 375°F.

Gently lower 1 uncooked tortilla into hot oil. Once tortilla rises to surface and begins to bubble, cook 10 seconds. Gently flip tortilla, and lightly press center of tortilla, using a metal spatula, to create a U shape. Cook 30 seconds or until golden brown. Carefully remove from oil, sprinkle with salt and drain upside down on a paper-towel-lined wire rack. Repeat procedure with remaining tortillas. Keep tortillas warm until ready to serve.

Cook onion and next 2 ingredients in 2 Tbsp. hot oil in a large nonstick skillet over medium-high heat 4 to 5 minutes or until softened. Add beef and cook, stirring often, 8 minutes or until meat crumbles and is no longer pink; drain.

Return beef mixture to skillet; add tomatoes, chili powder, cumin, and salt, and cook over medium heat, 4 minutes. Add beer and reduce heat to medium-low. Cover and simmer 15 minutes. Uncover, and cook 3 minutes or until liquid is absorbed.

Serve beef in warm tortillas with desired toppings.